Maria Dey of Sayville and her PSEG Long Island Colleagues Support Victims of Violence with Donation to ECLI-VIBES
(UNIONDALE, N.Y. — April 20, 2022) PSEG Long Island employees recently supported ECLI-VIBES (formerly the Victims Information Bureau of Suffolk) of Islandia with a $2,000 grant (left photo) and bag donation (right photo) to support victims of violence.

"We made this donation to ECLI-VIBES to help fulfill PSEG Long Island's unwavering commitment to our customers and the community," said Maria Dey, a PSEG Long Island employee who is president of the employee business resource group that provided the financial gift. "Along with the financial support, we intend to help this vulnerable population and their families throughout the year with food, clothing and toy drives."

The employees are already making good on that commitment. In early April, they filled 300 sturdy, reusable PSEG Long Island bags with important information on saving energy and financial assistance and delivered them to ECLI-VIBES Islandia headquarters. The donated bags will be distributed to clients in the organization's food pantry.

"Assistance like this helps us provide comprehensive services to our clients, including the basics of food and housing," said Heather Parrot, ECLI-VIBES director of Development. "Last year alone, ECLI-VIBES helped nearly 3,000 victims of trauma on Long Island and we can't thank PSEG Long Island enough for their support!"

Since 1976, ECLI-VIBES (vibesli.org) has been helping victims of violence, including domestic violence, sexual assault, trafficking, stalking, elder abuse, child abuse and other forms of trauma by providing counseling, advocacy, legal services, medical services, housing and an array of other support services.

PSEG Long Island is committed to providing customers with safe, reliable electric service, while supporting the community with service projects and programs that help customers save energy and money. For more information on energy efficiency programs visit https://www.psegliny.com/saveenergyandmoney. For information on financial assistance programs visit https://www.psegliny.com/myaccount/customersupport/financialassistance.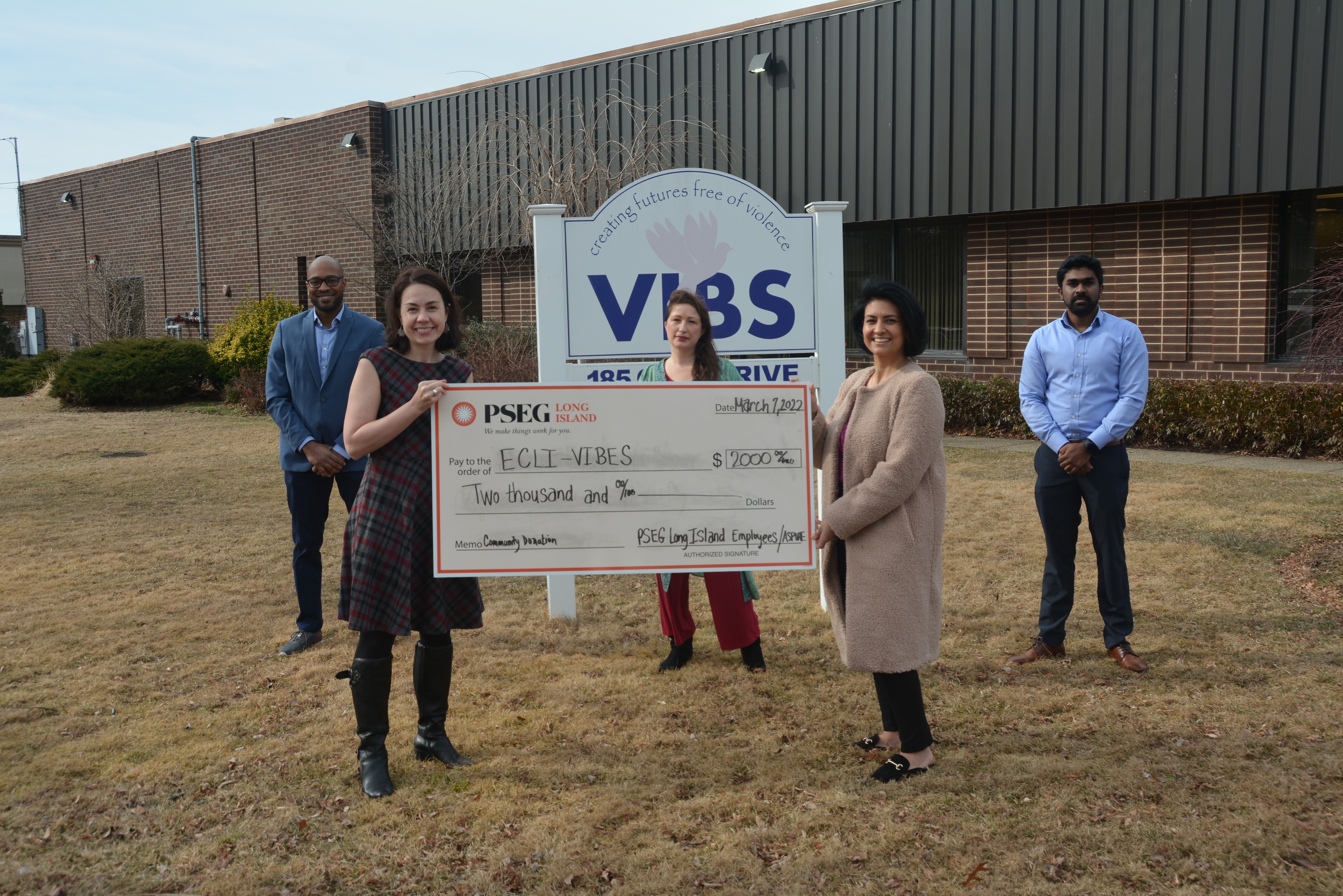 Photo Caption: Pictured (front row, l-r): Heather Parrot and Jennifer Hernandez of ECLI-VIBES; (back row, l-r): Jean Juste, Maria Dey and Alex Aju of PSEG Long Island.
###
PSEG Long Island operates the Long Island Power Authority's transmission and distribution system under a long-term contract. PSEG Long Island is a subsidiary of Public Service Enterprise Group Inc. (PSEG) (NYSE:PEG), a publicly traded diversified energy company.