Everyday Outreach
We're proud that many of the organizations we support are chosen by our employees—your friends and neighbors who live in the same towns and villages they serve.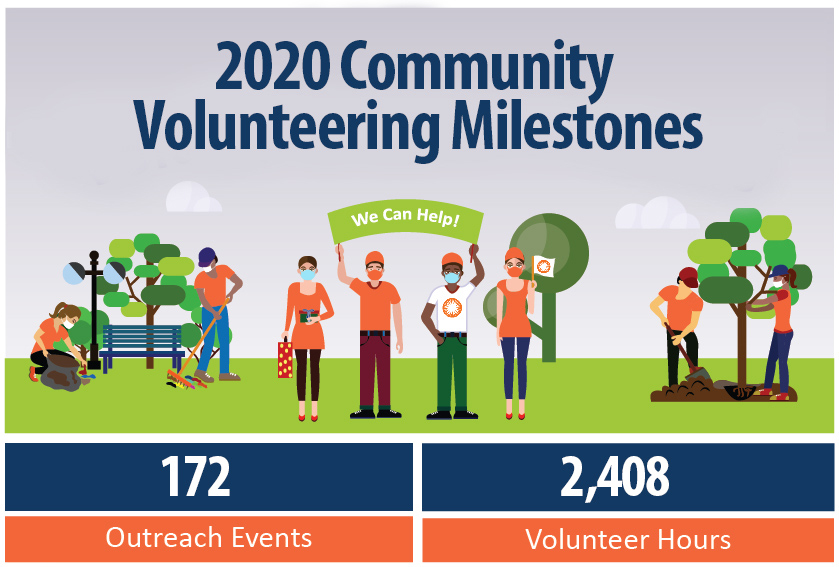 ---
Giving back to our communities is one of PSEG Long Island's Core Commitments and our employees have historically stepped up to support these efforts.
PSEG Long Island has always taken pride in having a visible force in the community. Early in 2020, COVID-19 necessitated strict safety protocols to keep our employees, customers and the public safe and healthy. Instead of our typical, face-to-face, hands-on employee community service activities, PSEG Long Island was determined to find new ways to give back to the Long Island communities that make up its service territory.
PSEG Long Island's most notable community outreach efforts in 2020 were primarily remote volunteer opportunities. Our employees supported virtual charity events for the American Cancer Society, March of Dimes and other not-for-profit organizations. These included:
Earth Day PSA Contest 2020 - In celebration of Earth Day's 50th Anniversary, PSEG Long Island collaborated with school districts across Long Island to have students produce Public Service Announcement (PSA) videos on energy conservation, electricity and the environment. Due to COVID, the initiative was re-vamped to be a learning activity instead of a contest, enhancing the students' remote learning experience during the early months of the pandemic. The PSAs promoted conserving natural resources, reducing dependency on fossil fuels and seeking renewable energy sources. Of the 142 PSA videos submitted, six were featured on PSEG Long Island's social media sites, as well as numerous local newspapers.
Family and Children's Association – To address the isolation of seniors during the pandemic, PSEG Long Island employees collaborated with the Family and Children's Association's (FCA) Senior Partners Program to make sure Long Island senior citizens do not feel not feel forgotten. PSEG Long Island Volunteers continue to make weekly wellness calls to seniors enrolled in the FCA program.
March of Dimes March for Babies – In 2020, once again PSEG Long Island employees, family and friends supported the March of Dimes and its mission to help reduce and prevent birth defects, premature births and infant mortality. With the walk cancelled, as a result of COVID, financial support from PSEG Long Island was raised through company sponsorship, employee donations and creative virtual fundraising activities. Instead of the typical bake sales and contests, employees hosted Zoom game nights, yoga sessions and cooking demonstrations to help raise funds.
Making Strides Against Breast Cancer – In 2020, PSEG Long Island helped make this year's Making Strides drive through a success by providing a "car wash" themed display. One of the event's top participants, PSEG Long Island employees "pinked" out their cars to participate in the first event held at Jones Beach since the start of the pandemic. In addition, employee teams held virtual game nights and other virtual fundraising events to raise funds to help the American Cancer Society fight Breast Cancer. PSEG Long Island also distributed a bill insert message inviting its 1.1 million customers to support either of the two Long Island drive-through events.

Additional highlights from 2020 community outreach initiatives include:
Many meals sponsored and delivered to first responders and local hospital workers.
During the holidays, PSEG Long Island employees made thousands of children's holidays better by donating gifts to TriCYA in Huntington, the Family Service League and The Salvation Army Project Toy for the growing number of struggling families.
PSEG Long Island helped address our community's mounting food insecurity by sponsoring more than 1,000 grab-and-go meals at the Mary Brennan INN during the Thanksgiving and Christmas holidays.
Our PSEG Long Island customer offices became food donation drop-off sites, helping support local food banks. Through this initiative, 3,000 pounds of food was collected, and donated to Island Harvest.
---
2020 Making Strides Drive-Thru
---
2019 Community Partnership Year-in Review!
---
2019 March of Dimes
---
Earth Week 2019
We launched Earth Week on Monday, April 15, in the Town of Oyster Bay. Followed by Long Beach, Huntington, Brookhaven and Islip through Monday, April 22, Earth Day. Volunteers beautified local parks, gave away LED light bulbs, seed packets and reusable bags at supermarkets, walked through business districts offering free lighting efficiency evaluations, and helped elementary school students learn about energy efficiency! Full details can be found here - Earth Week 2019
---

2018 Community Partnership Year-in Review!
---
American Red Cross on Long Island - Sound the Alarm. Save a Life.
American Red Cross on Long Island and PSEG Long Island volunteers have visited hundreds of local homes to install free smoke alarms, share fire education and explain ways to save money and energy.
---
Two Dozen PSEG Long Island Senior Leaders Roll Up Their Sleeves To Build Two Habitat for Humanity Homes
The employee volunteers pitched in to help build side-by-side Habitat for Humanity houses in Bay Shore for two Long Island families who are expected to be neighbors this winter.
---
March of Dimes March for Babies Walk
In May 2017, PSEG Long Island was the #1 Fundraiser and #1 Participant with more than 900 employees/family/friends at the event!
The mission of the March of Dimes is to improve the health of babies by preventing birth defects, premature birth and infant mortality. From polio to prematurity, the March of Dimes has focused on researching the problems that threaten our children and finding ways to prevent them.
---
Marcum Corporate Challenge
More than 1,000 PSEG Long employees, family members and friends, showed their support for the 6th consecutive year at the Marcum Workplace Challenge, at Jones Beach. Collectively, we raised more than $31K for four local charities, making us the largest fundraiser & participant in 2019.
This event is a 3.5-mile run-walk for charity that benefits four organizations: Long Island Cares, Inc. (The Harry Chapin Food Bank), The Long Island Children's Museum, Children's Medical Fund of New York, The Nassau County Society for the Prevention of Cruelty to Animals.
---
Making Strides Against Breast Cancer
In October 2018 PSEG Long Island was the #1 Participant with 700 employees/family/friends at the event.
This walk is an inspiring opportunity to unite as a community to honor breast cancer survivors and raise awareness and much needed funds to support the American Cancer Society's fight against this disease.