PSEG Long Island Employees Pitch In to Help Tend the Last African American Family Farm on Long Island
(UNIONDALE, N.Y. — July 26, 2022) A pair of PSEG Long Island employees and their family and friends spent a recent Saturday in Centereach supporting the last African American family farm on Long Island and educating visitors about PSEG Long Island's financial assistance programs.

PSEG Long Island's Tonya Simmons and Lindsay McKinley-Claxton pitched in to plant rows of acorn squash, pick cucumbers, weed sweet potato beds and educate customers at Bethel Hobbs Community Farm. Their volunteer efforts are one part of PSEG Long Island's overall Community Partnership Program.

"My mother grew up on a farm and my grandfather, who was once a slave, was able to buy the land he used to work on in Tchula, Miss.," said McKinley-Claxton, a Customer Operations analyst who lives in Central Islip. "It was inspiring to be able to volunteer at Bethel Hobbs because of its history. But because of the culture of PSEG Long Island and my positive volunteer experiences here, it could have been any farm and I would have been happy to help out. It was just extra special because of my family origin and history."

"It is so important to understand that we are more than just the electricity that comes out of the wall socket. We are people who live in the towns we serve," said Simmons, who works as a consumer advocate and staffed a table at the farm stand to provide PSEG Long Island program information to customers buying produce. "I wanted to make sure to spread the word, especially to our low-income customers in the area about the Household Assistance Rate and the home energy audit energy efficiency program. I was able to talk to customers directly as they picked the fresh produce and give advice on saving money on their bills. I met a few customers who were eligible for our discounted rate and enrolled them on the spot."

Bethel Hobbs Community Farm is the legacy of James Hobbs and his family, who came to Long Island from Georgia in 1906 and grew produce for three generations, first as farm workers and later as farm owners. Alfred Hobbs, James' son, farmed the land for decades, passing up many opportunities to sell the property in the hopes that it would always remain a farm. When he died in 1996, Alfred Hobbs left the farm to his church, Bethel AME Church in Setauket. To support the church, Friends of Hobbs Farm was created in 2007 to maintain the property and resume growing produce. Today, the cooperative gardening project has grown to over 5 acres and donates an average of 30,000 lbs. of fresh, organically grown produce to several local food pantries and soup kitchens each year. To learn more, visit https://hobbsfarm.info/.

PSEG Long Island is committed to providing customers with safe, reliable electric service, while supporting the community with service projects and programs that help customers save energy and money. For more information on energy efficiency programs visit https://www.psegliny.com/saveenergyandmoney. For information on financial assistance programs, visit https://www.psegliny.com/myaccount/customersupport/financialassistance.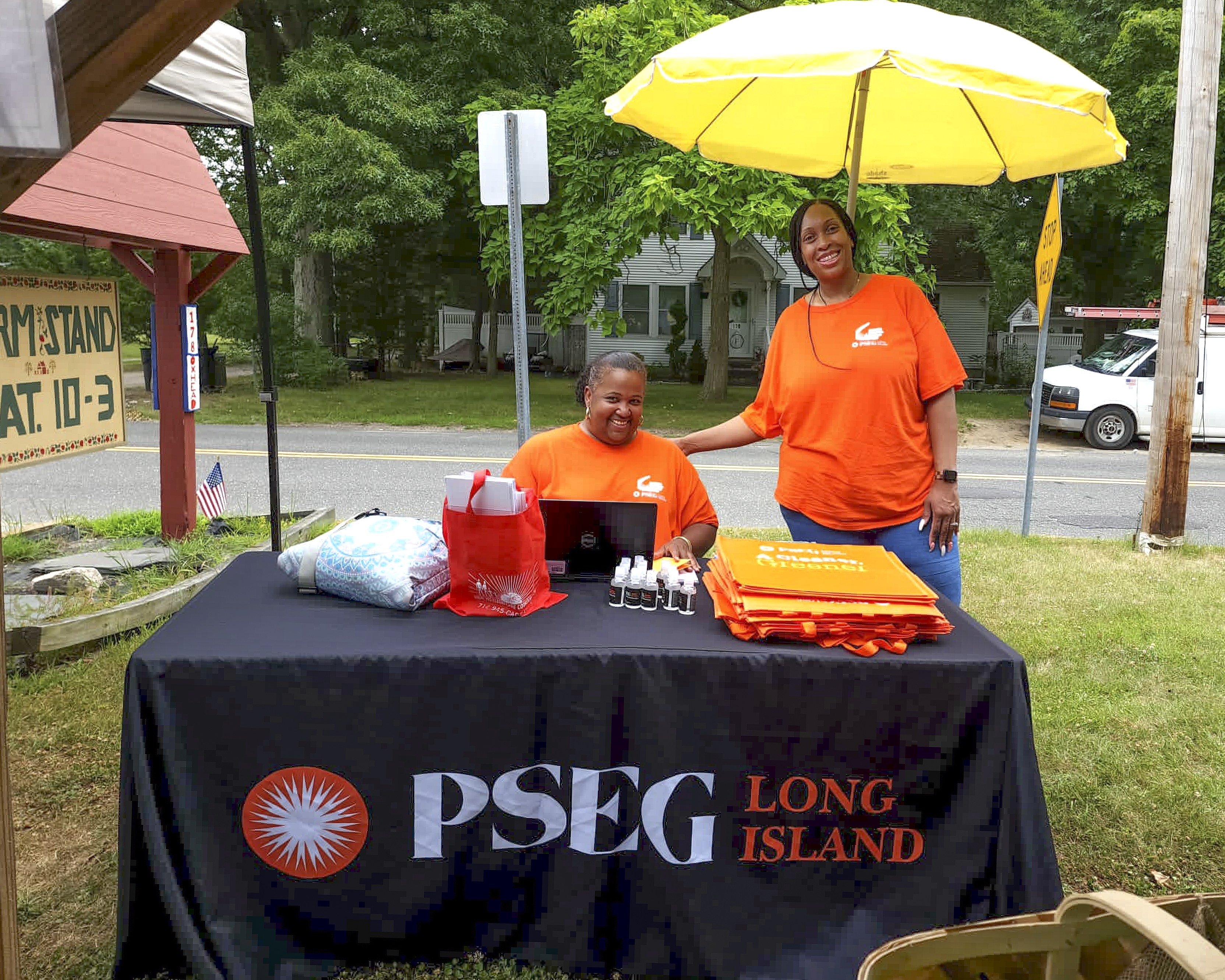 Photo Caption: Pictured (l –r): PSEG Long Island employees Tonya Simmons and Lindsay McKinley-Claxton and some of their family and friends volunteered on July 16 at Bethel Hobbs Community Farm in Centereach.
###
PSEG Long Island operates the Long Island Power Authority's transmission and distribution system under a long-term contract. PSEG Long Island is a subsidiary of Public Service Enterprise Group Inc. (PSEG) (NYSE:PEG), a publicly traded diversified energy company.