PSEG Long Island Celebrates Arbor Day with Beautification Projects in Nassau and Suffolk
(UNIONDALE, N.Y. — April 28, 2022) PSEG Long Island celebrated the 150th anniversary of Arbor Day on April 29 by planting trees to beautify public sites in Nassau and Suffolk counties, and by helping customers learn how to lower their energy use, save money and reduce Long Island's carbon footprint.

At Eisenhower Park's Field 2 in East Meadow, PSEG Long Island employees planted shade trees native to Long Island and the East Coast, including swamp white oak, red maple, blackgum and eastern white pine. For downloadable and publishable photos of this event, click here.

Another team of PSEG Long Island employees gathered outside the Lt. Michael Murphy Museum in West Sayville, planting flowering fruit trees in a historic orchard area to support local wildlife. For downloadable and publishable photos of this event, click here.

In addition, PSEG Long Island and the PSEG Foundation partnered with the Arbor Day Foundation to give away energy-saving trees to the first 100 customers who visited the teams in Eisenhower Park and West Sayville to learn about where to plant trees so they do not interfere with power lines, how to save money through energy efficiency, and what financial assistance programs are available. When planted properly, these energy saving trees can provide shade and wind protections that can reduce heating and cooling costs.

"Supporting the environment is an important way of improving life in the communities we serve," said Peggy Keane, interim president and COO of PSEG Long Island. "We are thrilled to show our spirit of community service by planting trees in Eisenhower Park and West Sayville, honoring a 150-year-old American tradition and ensuring nature continues to inspire for generations to come. As Long Island's own Walt Whitman so eloquently wrote, 'The solid forests give fluid utterances, they do as well as most speaking, writing, poetry, sermons — or rather they do a great deal better.'"

"On the 150th anniversary of Arbor Day, we are reminded that our health and the health of our planet are interconnected," said Suffolk County Executive Steve Bellone. "Planting trees is a simple act that benefits us and our environment by promoting clear air and water, enriching soil, and supporting our local wildlife."
"This partnership accomplishes several important objectives. The restoration of a historic estate landscape with the creation of a wildlife and pollinator habitat, and expansion of suburban forest will all be achieved by this collaboration. We are grateful for the opportunity to team up with PSEG Long Island and advance our mutual interests to improve Suffolk County Parks." said Nicholas Gibbons, Chief Environmental Analyst for Suffolk County Parks.
"In Nassau County, we are known for the prevalence of trees, and we take pride in maintaining our suburban quality of life, and the environmental benefits these trees provide," Presiding Officer Richard Nicolello said. "Thank you, PSEG Long Island, for helping us plant new trees in Eisenhower Park. Not only do they provide health and energy benefits, but they literally keep us alive, providing oxygen and removing carbon dioxide."

Protecting trees while ensuring reliability
PSEG Long Island also received the National Arbor Day Foundation Tree Line USA Award for 2021. This award recognizes public and private utilities across the nation utilizing tree-friendly practices that protect and enhance America's urban forests, while increasing electric reliability.

The environmentally sound techniques utilized by PSEG Long Island are in accordance with the International Society of Arboriculture's published best practices and the American National Standards Institute (ANSI) A-300 Standards for Tree Care Operations. This preserves the health of the tree and directs future growth away from power lines.

Promoting wire-friendly trees
A greener future for Long Island also means more trees. As they have done several times in recent years, PSEG Long Island and the PSEG Foundation partnered with the Arbor Day Foundation will provide 100 of its customers a free tree to provide shade and wind protection for their homes. The Energy-Saving Trees program is designed to showcase how planting the right trees in the right locations can reduce utility bills up to 20% in the summer and promote ongoing system reliability. PSEG Long Island will have a computer set up at both locations with specialized software to help customers determine the best place on their property to plant their new tree.

Serving the community
PSEG Long Island is committed to giving back to the people and communities it serves by actively supporting hundreds of local charity events each year through the company's Community Partnership Program. For more information on how PSEG Long Island supports the communities it serves, visit https://www.psegliny.com/inthecommunity/communitypartnership.

The first Arbor Day in the United States was observed in Nebraska in 1872 as a tree-planting celebration. To learn more about the Arbor Day Foundation and its mission, visit www.arborday.org.

PSEG Long Island is committed to providing customers with safe, reliable electric service, while supporting the community with service projects and programs that help customers save energy and money. For more information on energy efficiency programs visit https://www.psegliny.com/saveenergyandmoney. For information on financial assistance programs visit https://www.psegliny.com/myaccount/customersupport/financialassistance.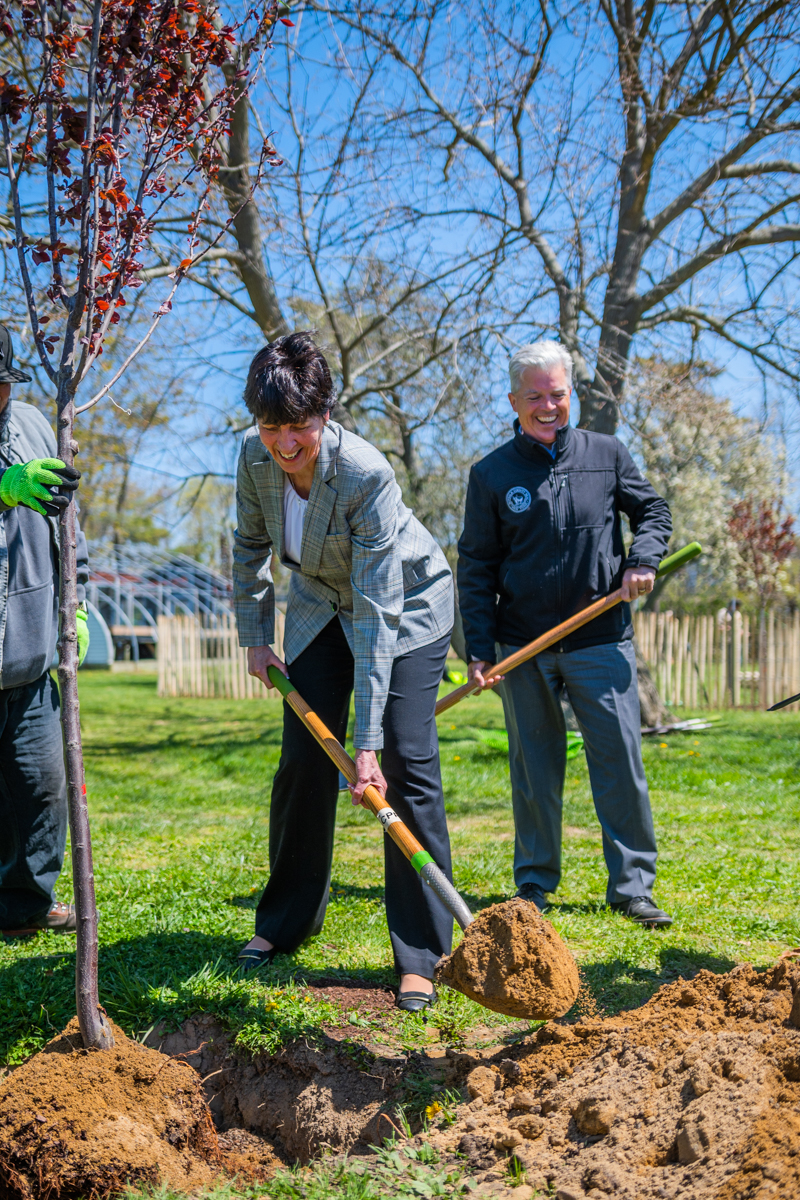 Photo Caption: PSEG Long Island's Peggy Keane (left) and Suffolk County Executive Steve Bellone help plant a tree in West Sayville on Arbor Day.

###
PSEG Long Island operates the Long Island Power Authority's transmission and distribution system under a long-term contract. PSEG Long Island is a subsidiary of Public Service Enterprise Group Inc. (PSEG) (NYSE:PEG), a publicly traded diversified energy company.