PSEG Long Island Employee Donation Supports Military Veterans through Warrior Ranch Foundation
(UNIONDALE, N.Y. — April 28, 2022) PSEG Long Island employees recently gave Warrior Ranch Foundation a $2,000 donation to support its programs to help first responders, military veterans and horses. The Calverton ranch provides a safe haven for people struggling with post-traumatic stress disorder (PTSD) and offers them the opportunity to interact with horses.

According to a 2021 Columbia University study, equine therapy — a treatment method that uses the connection between people and horses to enhance emotional healing — can jump-start the healing process for people who suffer from PTSD.

"We are supporting the Warrior Ranch Foundation as a small gesture to repay veterans for keeping us safe and fighting for our freedom," said Rich Rohman, member of the PSEG Long Island employee group that supports veteran causes. "This organization provides therapy for horses and humans with a program that has been shown to reduce the symptoms of PTSD. By grooming, feeding and exercising the animals, a bond develops, which lowers stress levels for both."

"Along with this donation, we are helping the Warrior Ranch Foundation ready its facility for the season," said Jessica Gilmartin, PSEG Long Island employee and president of the employee group that supports causes on the East End. "Not only did employees volunteer physical labor on their own time, we also provided an educational safety demonstration for children who do community service at the ranch."

"We are so grateful to PSEG Long Island and its employees who have been an incredible help to us in our renovations. They installed fence rails, cleaned out and painted the barns, and have been very supportive of our programs," said Eileen Shanahan, president of the Warrior Ranch Foundation. "The generous donation by the PSEG Long Island employees will directly benefit veterans through our horse interaction program."

PSEG Long Island is committed to providing customers with safe, reliable electric service, while supporting the community with service projects and programs that help customers save energy and money. For more information on energy efficiency programs visit https://www.psegliny.com/saveenergyandmoney. For information on financial assistance programs, visit https://www.psegliny.com/myaccount/customersupport/financialassistance.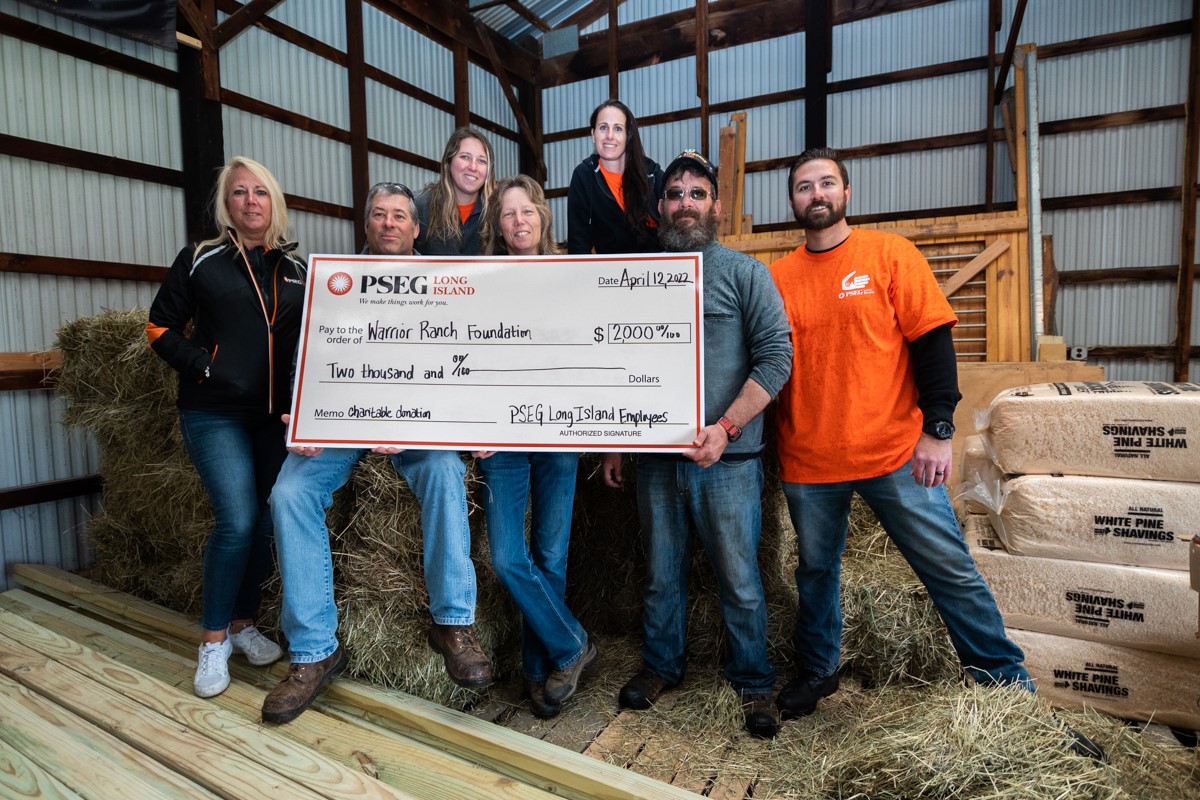 Photo Caption: Pictured (l –r): PSEG Long Island employees Debra Gilmartin, Rich Rohman and Jessica Gilmartin, Warrior Ranch Foundation President Eileen Shanahan, and PSEG Long Island employees Nora Atcosta, Tom Gross and James Raimondi.
###
PSEG Long Island operates the Long Island Power Authority's transmission and distribution system under a long-term contract. PSEG Long Island is a subsidiary of Public Service Enterprise Group Inc. (PSEG) (NYSE:PEG), a publicly traded diversified energy company.