Healthcare Heroes at Mercy Medical Center Get Energized with Meals Provided by PSEG Long Island
(UNIONDALE, N.Y. – May 11, 2020) Over the past few weeks, PSEG Long Island has been helping to energize our healthcare heroes by providing catered meals to local hospitals and healthcare facilities on the frontlines of the coronavirus pandemic.

Last week, during National Nurses Week (May 6-12), dinner, lunch and breakfast were provided to the daytime and overnight shifts working on COVID-19 patient units at Mercy Medical Center in Rockville Centre. The medical and ancillary staff appreciated the gesture and support and shared photos with the company to say thanks.

Several hundred meals will be provided at more than 30 health facilities across PSEG Long Island's service area to bring cheer and sustenance to healthcare workers during this difficult time.

"Normally during this time of the year, you can find our employees in bright orange T-shirts, gardening for Island Harvest, walking in the March of Dimes March for Babies, and participating in dozens of other community service events and activities," said Janeen Johnson, PSEG Long Island's manager of Diversity & Inclusion. "When the pandemic hit, our Diversity & Inclusion Council and employee business resource groups reflected on our commitment to community service and quickly found ways, such as these meal donations, to continue helping our neighbors while socially distancing."

Along with the food donations for healthcare heroes, PSEG Long Island has provided additional support to people on Long Island and the Rockaways:
The PSEG Foundation, provided Island Harvest Food Bank with a $45,000 grant to reduce food insecurity during the pandemic.
The PSEG Foundation gave a $25,000 grant to United Way of Long Island's UNITED TOGETHER: A Response Fund for COVID-19. The money will help alleviate disruptions to family life by providing eligible applicants with critical basic needs of food and household supplies.
Crews made emergency upgrades to electric service at hospitals to power temporary facilities for additional patients requiring care.
PSEG Long Island has temporarily suspended electric service shut-offs to residential and business customers for non-payment.
PSEG Long Island is committed to giving back to the people and communities it serves by actively supporting hundreds of local charity events each year through the company's Community Partnership Program. Last year, PSEG Long Island employees logged an unprecedented 30,000 service hours at 1,045 fundraising and community events, supporting more than 500 organizations. For more information on how PSEG Long Island supports the communities it serves, visit https://www.psegliny.com/community.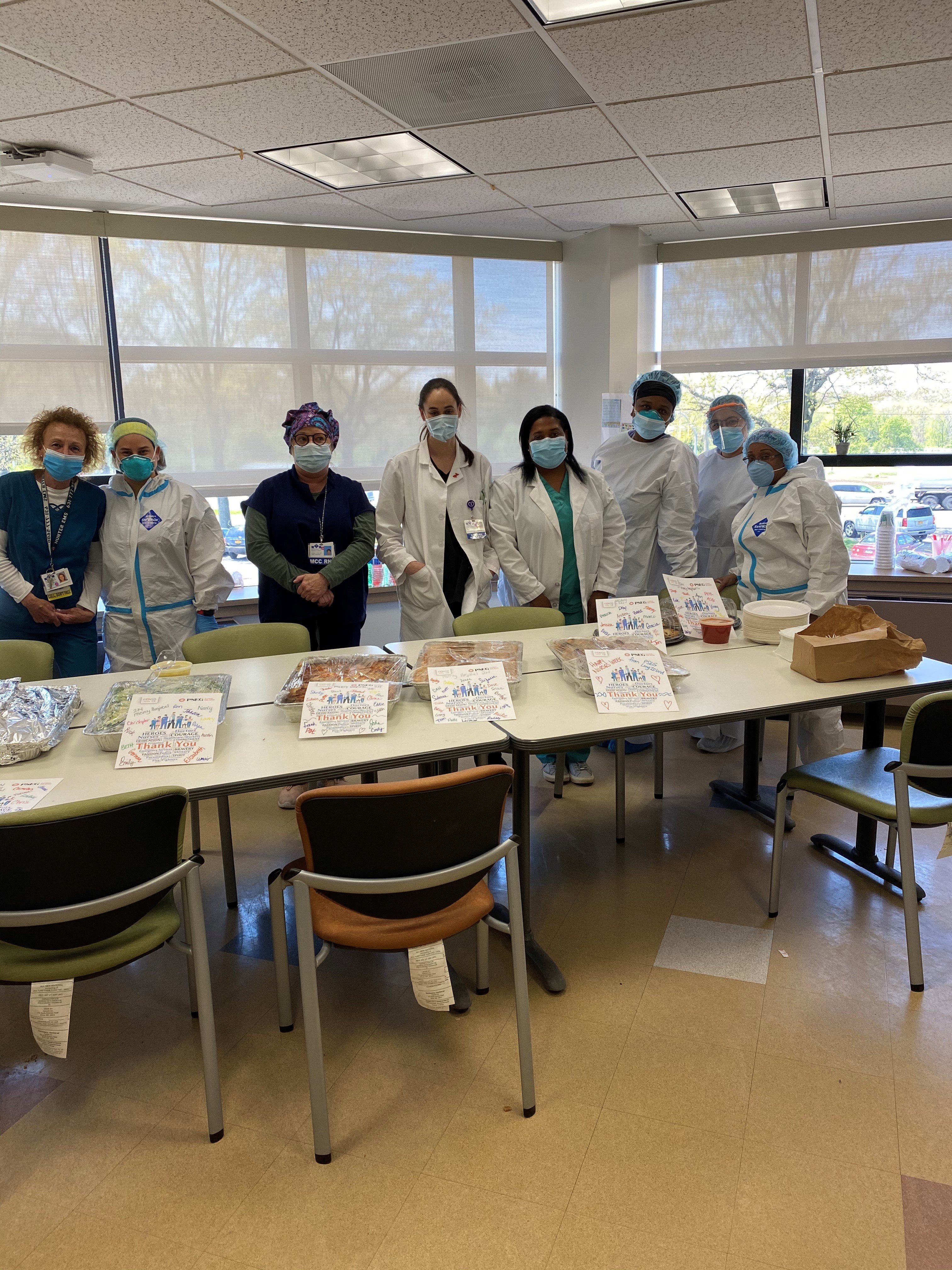 Photo Caption: Frontline healthcare heroes caring for COVID-19 patients at Mercy Medical Center were treated to lunch last week by PSEG Long Island to thank them for their service and in honor of National Nurses Week (May 6-12).
# # #
PSEG Long Island
PSEG Long Island operates the Long Island Power Authority's transmission and distribution system under a long-term contract. PSEG Long Island is a subsidiary of Public Service Enterprise Group Inc. (PSEG) (NYSE:PEG), a publicly traded diversified energy company.