PSEG Long Island and ULC Robotics Show Far Rockaway Students How Drones Help Keep the Lights On
QIRT class learns about utility technology and growing need for remote pilots and engineers
(Uniondale, NY – May 16, 2019) — Drones can be fun toys, but they are also versatile tools that are drastically reducing the time it takes PSEG Long Island to inspect its electric infrastructure. Officials from PSEG Long Island and ULC Robotics, the Long Island-based company that builds and operates the drones, delivered this lesson on Wednesday to a class of science-minded students at the Queens High School for Information Research and Technology (QIRT).

PSEG Long Island Vegetation Specialist Michael Draws is the energy company's drone expert. It was a logical progression for Draws, who explained to the students that he must frequently take flights in a rented helicopter in order to visually survey the high-voltage transmission lines that sit atop tall poles to ensure that no components are damaged or failing. Taking the company's safety mission to heart, Draws worked closely with ULC Robotics to bring unmanned drones into the process. Thanks to the range of different sensor packages the specially designed drones can carry, an intensive thermal inspection of substation equipment that took four days to complete on foot can now be done with a 15-minute flight.

"It's incredible what this technology can do. It's making us faster at identifying and addressing equipment problems, while at the same time making us safer," Draws said to students. "When I started my working life in 1983, I was a journeyman carpenter. Even after I joined the utility in 1992, I never in a million years would I have imagined that I would have the job I do today. Thanks to the tools that are available to you today, if you can dream it, you can do it."

Thomas Barracca, business development manager at ULC Robotics, emphasized the need for engineers in his field. The Hauppauge-based company builds robots and software to assist utilities worldwide with tasks including inspecting wind turbines and exploring and sealing leaks in underground gas mains.

"We work closely with utilities to build unmanned aerial vehicles and other automated equipment that meet their specific needs," Barracca said. "Our engineers and pilots are bringing drone technology to bear on real infrastructure problems — in most cases without having to interrupt service to the utility's customers."

QIRT students eagerly inspected the six-rotor drone that Barracca and Draws brought to the classroom, asking questions about design tolerances, payload capacity and optical precision. They were also happy to learn about how the two men attained their roles working with new technology.

"Although our focus at QIRT is college and career readiness for all of our students, we also strive to include a rigorous STEM curriculum. This includes showing them real-world applications of current technology — and the steps real people take to achieve careers in industries involving engineering and technology," said Donna Artola, chemistry teacher at QIRT. "Thank you to PSEG Long Island and ULC Robotics for giving the class a detailed look at how drone technology is improving the way utilities operate, and to Tom and Mike for sharing insights about their professional journeys."

PSEG Long Island, which provides electric service to 1.1 million customers on Long Island and in the Rockaways, has an educational partnership with QIRT. Last year, PSEG Long Island employees logged 26,000 service hours volunteering at 1,145 fundraising and community events to support more than 400 organizations. For more information on how PSEG Long Island supports the communities it serves, visit https://www.psegliny.com/inthecommunity/communitypartnership.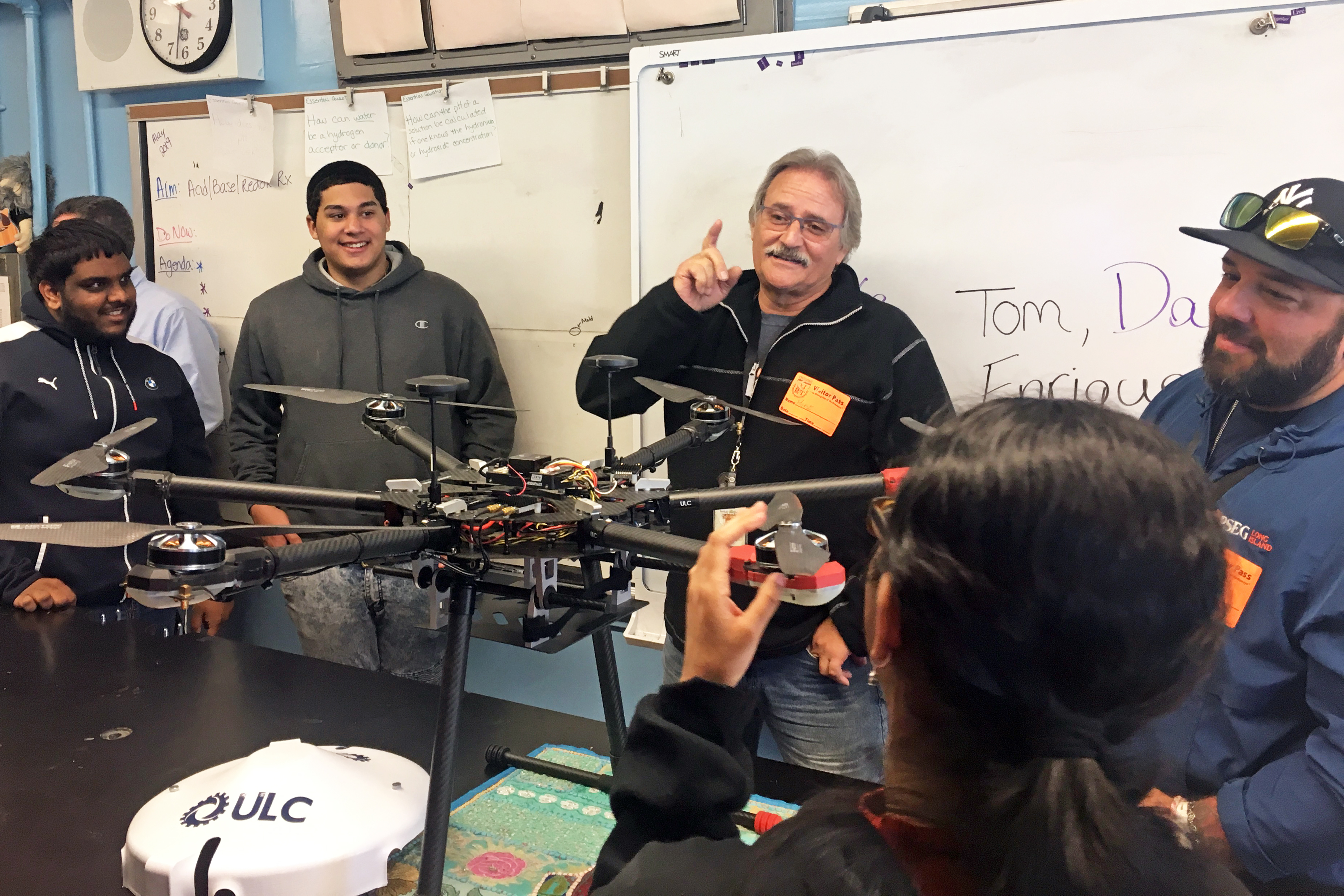 # # #
PSEG Long Island
PSEG Long Island operates the Long Island Power Authority's transmission and distribution system under a long-term contract. PSEG Long Island is a subsidiary of Public Service Enterprise Group Inc. (PSEG) (NYSE:PEG), a publicly traded diversified energy company.