Make Ready Incentive Program
PSEG Long Island EV Make Ready Program
The EV Make Ready Program offers incentives for the infrastructure needed to power Level 2 and DCFC across Long Island. This program is available for all commercial customers including Multi-Unit Dwellings, Retail/Offices, Parking Facilities/Lots, and more.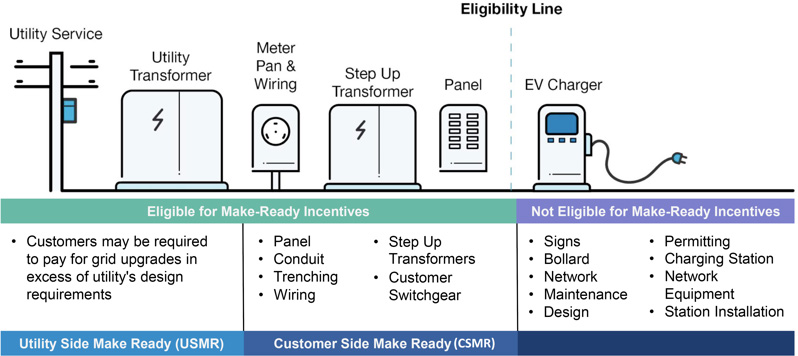 ---
Program Changes Effective September 1, 2023
The following program changes are now in effect and apply to all projects that are new or not previously pre-approved. For previously pre-approved projects, close out requirements will be in effect immediately.
Incentive Models
For DCFC projects, on top of the Lease Model being available for all Applicants, which covers both Customer-Side Make Ready (CSMR) and Utility-Side Make Ready (USMR), we will offer the option of USMR Coverage Only. Under this model, the EV Make Ready Program would cover only the USMR costs for a project and the Applicant would be responsible for all CSMR costs.
Incentive Caps for Level 2
Any Level 2 projects that propose the minimum number of two (2) ports, will only be eligible for the maximum incentive of $20,000 or less. For projects that have 3 or more ports, the maximum incentive will be $30,000 or less. Existing applications that have been pre-approved, will be honored at the previous incentive caps and rules. All other applications currently incomplete or not yet submitted will be subject to these new incentive caps.
Two ports; $20,000 or less
Three or more ports; $30,000 or less

Incentive Caps for DCFC
There have been no changes made to DCFC incentive caps.
---
Updated Requirements
Please see updated requirements below.:
Application Form version 2023.1 - New!
Any new projects that use Application version 2023 or earlier will be rejected.
The Cost Estimate Template has been retired and will no longer be used. Applicants. must fill out sections G (and H if applicable) in the Application Form and ensure they match to itemized quote from Developer.
W9 Form must be submitted with application submission.
A copy of customer's PSEG Long Island Electric bill must be submitted with application submission.
For new service, the Applicant will provide the account number and meter number upon energization when available.

Close-Out Requirements
Once the Conditional Pre-Approval has been issued by PSEG Long Island, the Applicant must notify the EV Make Ready Team when the site has been energized.
Prior to a site inspection being performed, the Applicant must submit the following:

Itemized invoice, showing proof of payment by the customer.

Following the site inspection, a Project Completion form will be sent from PSEG Long Island to the applicant to fill out and sign.

The Final Incentive Letter will be retired and no longer used going forward.
Once received, payment will be issued.
---
Additional Resources

For details, please contact us at PSEG-LI-EVMakeReady@pseg.com