Peggy Keane
Managing Director and Vice President-Construction and Operations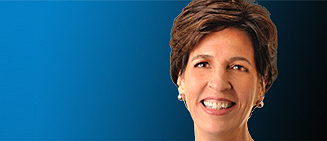 Peggy Keane was named Managing Director and Vice President-Construction and Operations Services in April 2019.
In this role, Ms. Keane coordinates shared Operation Services functions, acting as a primary point of contact internally and for the Long Island Power Authority.
She also oversees the planning and operations of PSEG Long Island's Projects and Construction functions, Materials and Logistics Management, Fleet / Transportation Management, Safety, Health and Wellness, Environmental Management and Compliance and Facilities Management.
Previously, Ms. Keane served PSEG Long Island as Director-Project, responsible for managing the $729 million Public Assistance Grant from the Federal Emergency Management Authority (FEMA). In this role, she oversaw the important work of hardening priority mainline circuits, strengthening storm damaged transmission lines and upgrading the existing control and communication systems.
Ms. Keane joined PSE&G in 1999, holding a number of positions including Senior Project Manager-RTEP and Interconnection Process, Project Controls Manager-PMO and Contracting Manager. She holds a bachelor's degree in mechanical engineering from Rutgers University and an MBA from Excelsior College.