PSEG Long Island Recognizes Universe Home Services of Seaford for Helping Customers Save Money and Reduce their use of Fossil Fuels
(UNIONDALE, N.Y. — July 13, 2022) Universe Home Services was recognized by PSEG Long Island for helping Long Islanders make home renovations to reduce their carbon footprints.

The Seaford-based energy efficiency solutions contractor was named PSEG Long Island's "Most Partial House Production Top Performer" for installing more than 350 heat pumps in Long Island homes last year. The upgrades saved customers more than 8,000 mmBTUs of natural gas, a fossil fuel, which is enough energy to power 128 homes for a year.

The upgrades were made through PSEG Long Island's Home Comfort program, which is designed to increase homeowners' comfort while reducing carbon emissions and related energy usage costs, mostly through heat pump technology for heating and cooling. Cold climate air-source heat pump systems use a combination of electricity and renewable energy instead of fossil fuels, making them more efficient and cleaner than older fuel oil and propane heating systems.

"Our partnership with PSEG Long Island allows us to offer our customers impressive rebate incentives for installing the most efficient heating and cooling systems in their homes," said Taylor Papa, Sales manager, Universe Home Services. "At Universe Home Services, customer satisfaction is one of our most important core values, so our customers can rest easy knowing that they will receive an unparalleled installation experience."

"PSEG Long Island strongly supports the 2019 New York State Climate Leadership and Community Protection Act, which set a goal of using 100% carbon-free energy in the state by 2040," said Michael Voltz, director of Energy Efficiency and Renewables at PSEG Long Island. "We are grateful to our contractor partners for helping our customers decrease their own energy consumption, save money, and also help reduce our collective reliance on fossil fuels."

PSEG Long Island announced the award earlier this year at its 2021 Energy Efficiency Programs – Contractor Meeting and Awards, an annual event that typically draws hundreds of contractors, product manufacturers and other energy efficiency experts.

For more information on PSEG Long Island's energy efficiency programs and available rebates, visit: www.psegliny.com/saveenergyandmoney.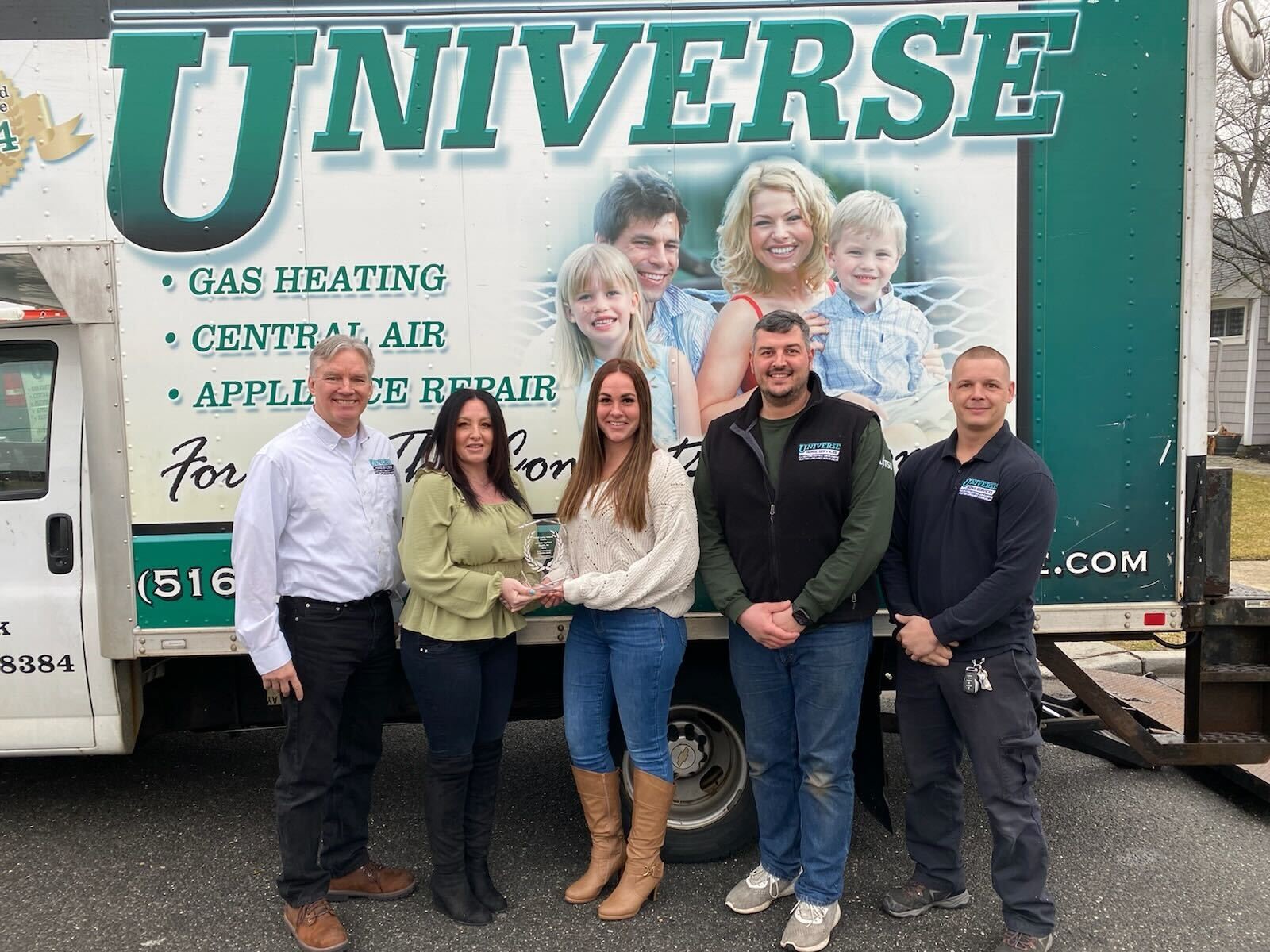 Photo Caption: Pictured in front of one of their trucks (l-r) are: Bill Powell, Dawn Crowley, Taylor Papa, Jeffrey Schaefer and Scott Kelly of Universe Home Services.
###
PSEG Long Island operates the Long Island Power Authority's transmission and distribution system under a long-term contract. PSEG Long Island is a subsidiary of Public Service Enterprise Group Inc. (PSEG) (NYSE:PEG), a publicly traded diversified energy company.