PSEG Long Island Dubs Hundreds of Elementary Students 'Safety Sleuths'
Kids earned badges by completing PSEG Long Island's electrical safety coursework
(UNIONDALE, N.Y. — April 14, 2022) More than 1,700 elementary school students from 21 schools across the Rockaways and Long Island who became badge-wearing "safety sleuths" for completing PSEG Long Island's electrical safety program in their classrooms.

Over the past few months, students in first through fourth grade have been learning about electrical safety through a special school program titled Safety Sleuth. Sponsored by PSEG Long Island, the coursework provided the students an opportunity to engage in safety lessons in their classes and ultimately create posters on topics related to electrical safety. Teachers were encouraged to submit their favorite three projects to be considered for inclusion in an online gallery.

Of the more than 90 submitted posters, 25 are to be featured in the gallery and on PSEG Long Island's social media channels. The gallery will include the artwork of Sumer Spence, a first grader in Miss Yvette Raymore's class at PS 43 "The School by the Sea" in Far Rockaway. Her poster encourages people to be safe when walking near electrical cords.

"My poster shows that it is dangerous to trip over electric cords," said the first grader. "It is important to be safe around electricity because you might get hurt if you don't be careful."

Teacher Raymore said the program gave children a different perspective about electricity. "Participating in PSEG Long Island's Safety Sleuth allowed students to reflect on electricity as not just lights."

"It is important to teach children electrical safety from a young age, and this curriculum was specifically developed to educate elementary school students with simple lessons in a non-frightening way," said Suzanne Brienza, PSEG Long Island's director of Customer Experience and Utility Marketing. "We are very pleased with the positive feedback from students and teachers about this new Safety Sleuth program, and we're happy to officially dub the participating students 'Safety Sleuths.'"

Created by educational consultants D. Barrett Associates, the electrical safety coursework provided age-appropriate lessons, such as staying safe around downed wires outside, and around electrical outlets indoors. The program was created in alignment with current educational standards on these topics. The curriculum was also tailored for classroom, virtual learning and hybrid scenarios.

Safety Sleuth was provided at no cost to students in the company's service area – Nassau and Suffolk counties and the Rockaways.

Safety Sleuth participation by the numbers
91 posters submitted
1,704 students in grades 1-4
89 teachers
21 elementary schools
13 school districts in Nassau and Suffolk counties and the Rockaways
PSEG Long Island provides educational resources through its robust Community Partnership Program, which includes several educational programs for children of all ages at schools, after-school and camp programs. These shows and programs on energy conservation, electric safety and preparing for an emergency have educated tens of thousands of children. The new Safety Sleuth program has already been receiving high praise since it was added to the educational programming lineup in this school year. PSEG Long Island has also developed an electric safety video that will be available to teachers upon request. For more information on these programs, please visit www.psegliny.com/inthecommunity.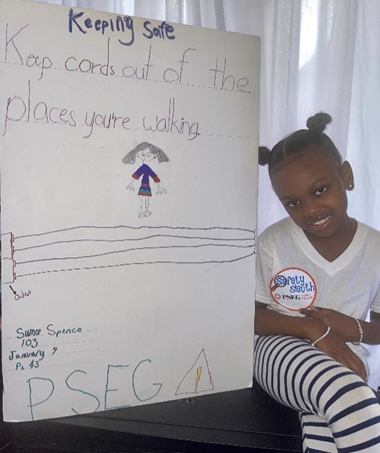 Photo Caption: PS 43 first-grader Summer Spence poses with her "safety sleuth" badge and the electrical safety poster she created that will be featured in PSEG Long Island's Safety Sleuth gallery.
###
PSEG Long Island operates the Long Island Power Authority's transmission and distribution system under a long-term contract. PSEG Long Island is a subsidiary of Public Service Enterprise Group Inc. (PSEG) (NYSE:PEG), a publicly traded diversified energy company.