To Commemorate Veterans Day, Active Duty Veteran and Military Dad — PSEG Long Island Coworkers from Bay Shore/West Islip — Serve Those Who Served
(UNIONDALE, N.Y. – Nov. 17, 2021) In recognition of Veterans Day (Nov. 11), a group of PSEG Long Island co-workers took time last week to make some outdoor space more accommodating for veterans and the public.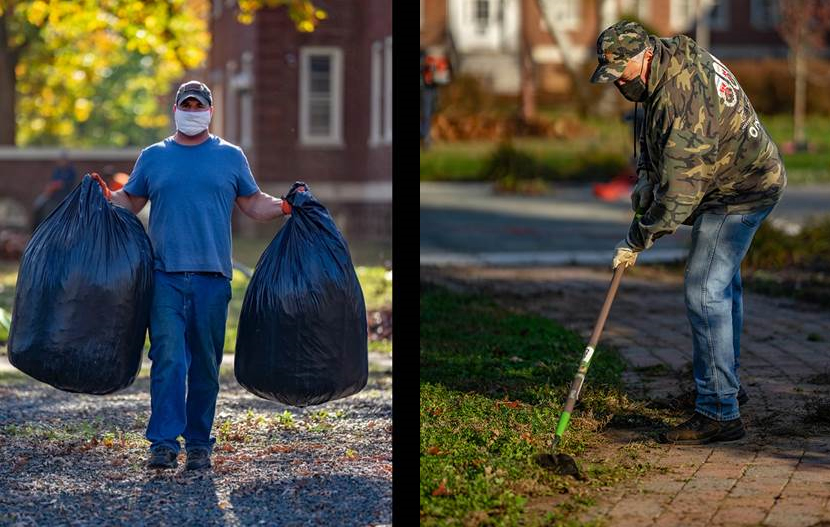 U.S. Air Force Technical Sgt. Chris Jensen (left) and Joseph Bosch, a military dad, were among the 20 PSEG Long Island employees who donned masks and safety vests and weeded, raked, cleaned out debris, and bagged leaves at the 3.5-acre Vietnam Veterans Memorial Garden courtyard and Wall of Wars at the Northport Veterans Affairs Medical Center last week. The area is a place of reflection for veterans staying at the facility and a destination for veterans and others in the community seeking to pay tribute to Long Island's military population. Participating in hands-on projects like this is important to PSEG Long Island employees because they live in the communities they serve.

Jensen, who grew up in West Islip and lives in Bay Shore, is a lineworker with PSEG Long Island's Emergency Services Sector. Bosch, of West Islip, is an engineering technical assistant in the company's Transmission Control group. Both were grateful for the opportunity to participate.
"I think it's excellent that my company recognizes veterans through activities like this that support the veteran community," said Jensen. "As an active member of the Armed Services, I appreciate working for a company that cares for the military community and helps me create an easier 'work-family-military life balance.' PSEG Long Island understands the commitment and dedication it takes to wear all three hats and make it work."
"I volunteered at the VA because besides honoring my friends and family who are veterans, including my son who is currently serving, I believe in giving back to our veterans who served our country," said Bosch. "I also believe it is important to give back to our community and making it a better place."
PSEG Long Island is proud to count military veterans, like Chris Jensen, among its workforce. Its employees are dedicated to providing customers with safe, reliable power and also committed to the communities they serve by engaging in community service activities and raising funds to support and help their neighbors.
To view photos of the event, visit: https://flic.kr/s/aHsmX6k6T4
###
PSEG Long Island operates the Long Island Power Authority's transmission and distribution system under a long-term contract. PSEG Long Island is a subsidiary of Public Service Enterprise Group Inc. (PSEG) (NYSE:PEG), a publicly traded diversified energy company.