PSEG Long Island helps create a safe environment for children of Manhasset/Great Neck EOC
Dangerous tree removal and donation of wood chips to help community
(UNIONDALE, N.Y. – Oct. 1, 2021) PSEG Long Island recently assisted the Manhasset/Great Neck Economic Opportunity Council (MGNEOC) create a safe environment for the children and families served by multiple programs that provide help and support to "at risk" youth and families held at 65 High Street, Manhasset. For video of the day's activities, visit https://youtu.be/RwY_qxVpFHU.

The MGNEOC's facility has a wonderful playground for the community's children to exercise and play. Unfortunately, the wood chips surrounding the playground had become diminished and needed to be replaced to enhance safety – a cost prohibitive initiative. The MGNEOC reached out to several entities for help, including Town of North Hempstead Councilwoman Veronica Lurvey. Councilwoman Lurvey, familiar with PSEG Long Island's Community Partnership Program, contacted PSEG Long Island for assistance.
"We were thrilled to be able to help the Manhasset/Great Neck EOC turn lemons into lemonade," said Kim Kaiman, regional public affairs manager for PSEG Long Island. "PSEG Long Island is committed to not only providing reliable electric service to our customers, but also to giving back to the communities where we live and work. This request was a perfect fit."
When PSEG Long Island employees visited the Manhasset/Great Neck EOC to determine the amount of wood chips needed, they noticed a large tree that had fallen near a path the children and families use to access the nonprofit's playground and food pantry. A storm toppled the tree two years ago, but the group did not have the funds to remove it.
PSEG Long Island saw the opportunity to eliminate a safety hazard and provide the much-needed wood chips at the same time and quickly adjusted its plans, arranging for a vegetation management crew to cut up the tree and feed it into a chipper on-site.
"Wood chips are important safety surfacing and they are extraordinarily expensive. A couple years ago we were the beneficiary of a similar generous donation. I am pleased PSEG Long Island was able to help again," said Stephanie Chenault, executive director/Head Start director, Manhasset Great Neck EOC. "Thank you PSEG Long Island for removing the fallen tree and donating wood chips for our playground."
"I want to say thank you to PSEG Long Island. I know the kids are going to love the new playground and PSEG Long Island has brought in wood chips from their tree removal," said Councilwoman Lurvey. "That is just fantastic for the community."
"PSEG Long Island made it all possible for this tree removal to happen. A tree needed to come down and the playground needed wood chips," said North Hempstead Town Clerk Wayne Wink. "Thank you PSEG Long Island for the great work!"
Pastor Jim Owens of the Shelter Rock church Food Pantry, stated, "It is a real blessing to have PSEG Long Island take care of the tree. It is now a safer environment for our clients to get the services that we provide to them."
"We are grateful for PSEG Long Island coming to cut up the tree," said Diana Holden, executive director of Adventures in Learning. "It is important for the children to see that they are important enough for people to come, help them and take care of these dangers that are around them. It makes them feel safer. Thank you for the great work."
For additional photos, visit PSEG Long on Flickr: https://flic.kr/s/aHsmWGZN9m
Since 2014, PSEG Long Island's Community Partnership Program has supported many organizations across Long Island and the Rockaways.
PSEG Long Island is committed to giving back to the people and communities it serves by actively supporting hundreds of local charity events each year through the company's Community Partnership Program. For more information on how PSEG Long Island supports the communities it serves, visit www.psegliny.com/community.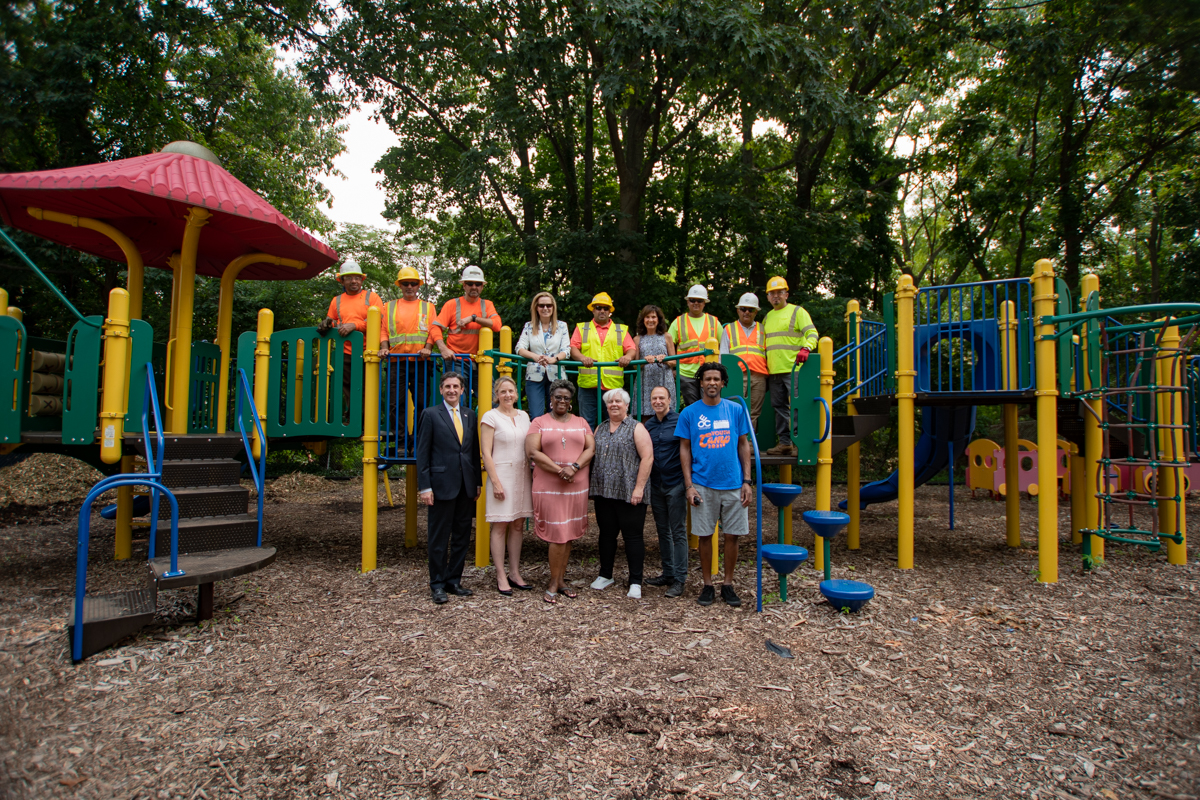 Photo Caption: North Hempstead Councilwoman Veronica Lurvey (bottom row, second from l.) joined Manhasset Great Neck EOC staff and PSEG Long Island' employees and tree trim contractors to celebrate PSEG Long Island removing a hazard tree from the nonprofit's property and donating the chips for use in the children's playground.
###
PSEG Long Island operates the Long Island Power Authority's transmission and distribution system under a long-term contract. PSEG Long Island is a subsidiary of Public Service Enterprise Group Inc. (PSEG) (NYSE:PEG), a publicly traded diversified energy company.