PSEG Long Island Provides Resources to Help Feed Long Islanders During the Pandemic
(UNIONDALE, N.Y. – May 29, 2020) The pandemic has made many more Long Island families wonder where they are getting their next meal. The recent surge in food insecurity has led organizations like Tri Community and Youth Agency (Tri CYA) in Huntington Station to become emergency food distribution centers.

PSEG Long Island is proud to partner with Tri CYA in its effort to feed Long Islanders by providing more than 1,000 reusable bags for the initiative. Residents facing hardship are encouraged to visit the facility, located behind the Big H Shopping Center on New York Avenue on Mondays and by appointment the rest of the week. The bags donated by PSEG Long Island will also be used to deliver nonperishable items to the homes of people without transportation.

"Service to our community is extremely important to us as a company," said Daniel Eichhorn, PSEG Long Island president and COO. "Each year our employees enjoy rolling up their sleeves to participate in various events and activities to support our neighbors. Though we have suspended face-to-face community service right now, we are able to help our customers in different ways, including donating these bags."

"Tri Community and Youth Agency and those coming to get emergency food are so grateful for the wonderful bags from PSEG Long Island," said Debbie Rimler, executive director of the Tri CYA. "The bags are reusable and large enough to hold a lot of groceries. I don't know how we would be able to distribute food on the scale we are doing without them."

Along with the reusable bag donation, PSEG Long Island is providing catered meals, drinks and snacks to hundreds of healthcare workers caring for COVID-19 patients at 30 hospitals, nursing homes and healthcare facilities in its service area.

Through the PSEG Foundation, the company was also able to provide more than $100,000 in pandemic-related grants. A $45,000 grant was given to Island Harvest Food Bank, and $25,000 grants each were given to the United Way of Long Island's UNITED TOGETHER: A Response Fund for COVID-19 and the LI Health and Welfare Council - Long Island Voluntary Organizations Active in Disaster (LIVOAD) Coalition.

PSEG Long Island is committed to giving back to the people and communities it serves by actively supporting hundreds of local charity events each year through the company's Community Partnership Program. With the pandemic and social distancing orders, hands-on community service has been put on hold. However, last year, PSEG Long Island employees logged an unprecedented 30,000 service hours at 1,045 fundraising and community events, supporting more than 500 organizations. For more information on how PSEG Long Island supports the communities it serves, visit https://www.psegliny.com/community.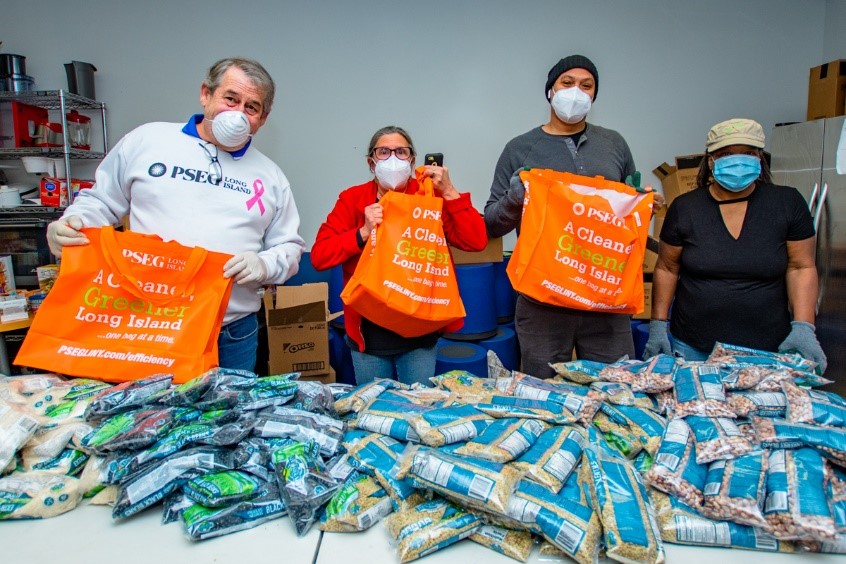 Photo Caption: Shown from left to right are: PSEG Long Island's Pete Hornick with Tri Community and Youth Agency Executive Director Debbie Rimler and social workers Martine MacDonald, and Linda Leake. The Tri CYA is distributing food in reusable bags donated by PSEG Long Island to members of the community who have become food insecure due to the pandemic. (additional photos are available)
# # #
PSEG Long Island
PSEG Long Island operates the Long Island Power Authority's transmission and distribution system under a long-term contract. PSEG Long Island is a subsidiary of Public Service Enterprise Group Inc. (PSEG) (NYSE:PEG), a publicly traded diversified energy company.