Partnering With Local Girl Scout to Help Raptors Soar
PSEG Long Island contributes to Stony Brook Girl Scout's Gold Award Project
(UNIONDALE, N.Y. – Jan. 10, 2020) – In balancing its commitment to the consistent, safe delivery of power with its commitment to being a good environmental steward, PSEG Long Island has awarded Hailey Van Cott, a Suffolk County Girl Scout from Stony Brook, with a $200 donation towards her Girl Scout Gold Award project of improving the raptor facilities at Sweetbriar Nature Center.
PSEG Long Island works closely with the local community and municipalities to carefully relocate osprey and other raptor nests from electrical facilities to safe nesting locations.
"We want to help ensure these wonderful birds continue to return to the area year after year while, at the same time, protecting the reliability of the energy grid," said John O'Connell, PSEG Long Island's vice president of transmission and distribution. "Hailey's project aligns with our commitment to protecting the local raptor population."
Van Cott's raptor rehabilitation project will educate the community about the importance of rehabilitating and releasing injured birds back into the wild. Her work will include repairing the prey enclosure inside the raptor enclosure at Sweetbriar Nature Center. The enclosure helps the raptors relearn how to hunt for food. In addition, educational pieces will be created to instruct younger Girl Scout troops about raptors and the importance of bird rehabilitation.
"I am humbled and very thankful to be recognized by PSEG Long Island for my Girl Scout Gold Award project at Sweetbriar Nature Center," said Van Cott. "The generous donation will enable me to improve upon the final aspects of rehabilitating the prey enclosure within the Flight Aviary. I have enjoyed working on this project to help ensure that the raptors can be rehabilitated and released into the wild."
The Girl Scout Gold Award is presented to seniors and ambassadors who tackle issues that are important to them and drive lasting change in the community. The Gold Award is for the elite few that strive to take "make the world a better place" to the next level. A Gold Award Girl Scout's achievements prime her for the fast track when it comes to college admissions, and make her an outstanding candidate for academic scholarships and other financial awards.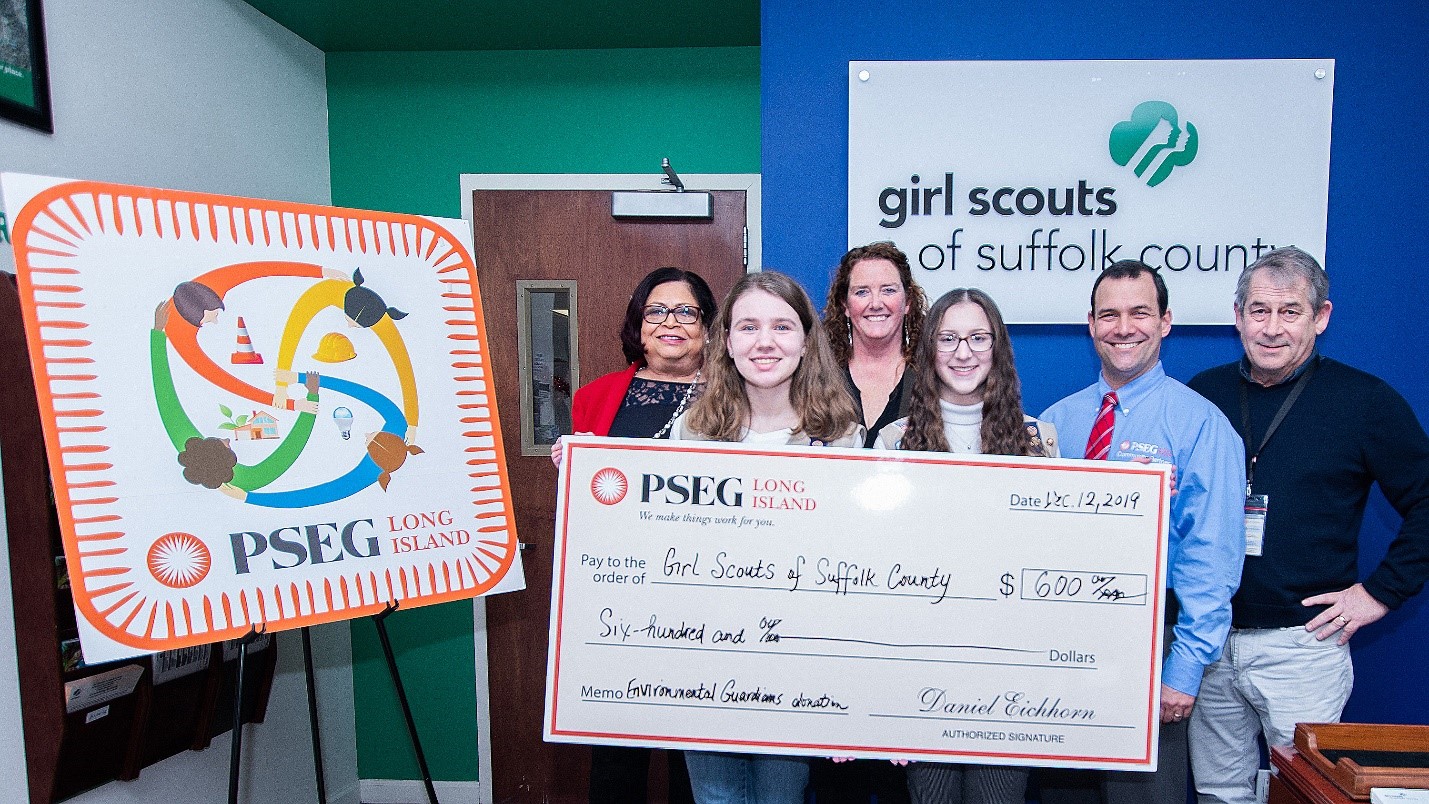 Photo Caption: Suffolk County Girl Scout Hailey Van Cott (right, foreground), of Stony Brook, received $200 from PSEG Long Island to help complete her Gold Award project to help rehabilitate injured birds of prey. She is joined by (l. to r.) Yvonne Grant, president of the Suffolk County Girl Scouts; Elizabeth Flagler of PSEG Long Island; fellow Girl Scout Caroline Hines; and Brian Kurtz and Pete Hornick of PSEG Long Island.
###
PSEG Long Island operates the Long Island Power Authority's transmission and distribution system under a 12-year contract. PSEG Long Island is a subsidiary of Public Service Enterprise Group Incorporated (NYSE:PEG), a publicly traded diversified energy company with annual revenues of $9.1 billion.