Broadridge Financial Saves Hundreds of Thousands of Dollars by Going Greener
PSEG Long Island awards company nearly $700,000 in energy efficiency rebates
(UNIONDALE, N.Y. – Jan. 9, 2020) – PSEG Long Island's Commercial Efficiency Program has saved corporate services company Broadridge Financial Solutions, Inc., nearly $700,000 on energy-efficient upgrades at its Heartland Industrial Park buildings in Brentwood over the past two years.

"Broadridge's decision to go greener is a great example of fiscal responsibility," said Michael Voltz, director of energy efficiency and renewables, PSEG Long Island. "The company is serving as a model for other large employers looking to reduce their carbon footprints. We will continue to work with Broadridge to find additional projects to further reduce its energy use and add to its financial savings."

The savings represent more than $350,000 in energy efficiency rebates for replacing fluorescent fixtures and incandescent light bulbs with more energy-efficient LEDs in 2018, nearly $250,000 for upgrades to lighting, heating, cooling, ventilation, and refrigeration systems in 2019 and an additional rebate for $42,000 for installing workplace electric vehicle chargers, which encourages and supports employees who drive electric vehicles.
"Broadridge considers PSEG Long Island to be much more than our Long Island electricity provider. We consider them valuable business partners who seriously view and support all our mission-critical business needs for us and for our bank and broker clients," said Tom Ragolia, Broadridge vice president of facilities & real estate. "PSEG Long Island delivers reliable, undistorted electric service, and in addition, their subject-matter expertise and guidance have allowed us to take full advantage of various rebates related to our production facilities. This valuable assistance has allowed us to make prudent business decisions that reduce expenses, reduce our carbon footprint, and in some cases, better support the needs of our clients," he added.
By making these improvements, it is estimated Broadridge Financial Solutions will reap significant savings of more than 2.2 million kilowatt hours (kWh) per year and approximately $400,000 annually on its electric bill.
Independent annual evaluations by Opinion Dynamics Corporation have found PSEG Long Island's Energy Efficiency and Renewable Energy Programs generate energy savings that are cost-effective. In 2018, Opinion Dynamics found that the PSEG Long Island Energy Efficiency Program generated $2.00 in benefits to the utility and its customers for every $1.00 in costs to operate the program, including rebates.
For more information on PSEG Long Island's available residential and commercial rebates and incentives, as well as energy saving tips, please visit https://www.psegliny.com/savemoney.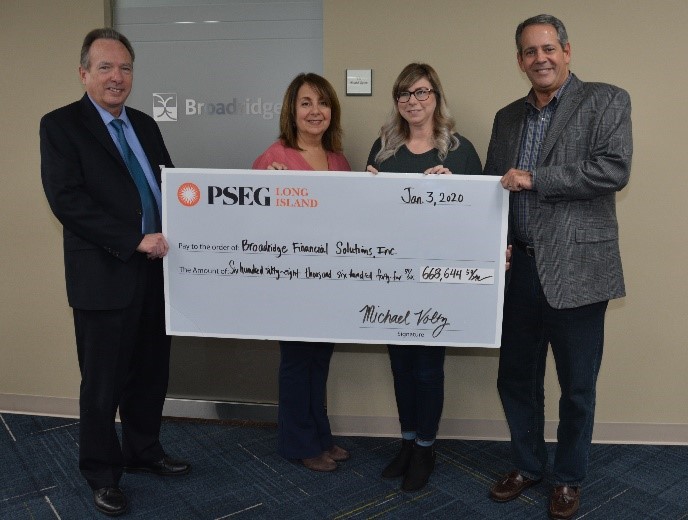 Photo Caption: PSEG Long Island recently presented Broadridge Financial Solutions with a rebate check for $668,644 for making energy efficiency upgrades to its buildings over the past two years. Pictured (left to right) are PSEG Long Island's Walter Hoefer, energy efficiency contract manager and Lauren Lian, major account consultant, along with Broadridge Financial Solutions' Dana Milano, executive administrative assistant and Tom Ragolia, vice president of facilities & real estate.
###
PSEG Long Island operates the Long Island Power Authority's transmission and distribution system under a 12-year contract. PSEG Long Island is a subsidiary of Public Service Enterprise Group Incorporated (NYSE:PEG), a publicly traded diversified energy company with annual revenues of $9.1 billion.