PSEG Long Island Honors Veterans with a Week of Community Service
Dozens of employees clean yard of World War II vet and beautify Northport VA
(Uniondale, NY – Nov. 15, 2019) – PSEG Long Island is celebrating veterans throughout the week of Veterans Day by improving the homes and facilities of men and women who have served in the U.S. armed forces, including doing a massive cleanup at the Northport home of a WWII veteran. The theme of the week of service is "Vets Helping Vets."
Today a group of more than 20 employees donned protective clothing and gear to take on the Northport front and backyard of 98-year-old WWII veteran Clem Novak.
Novak was born in 1921 in Pennsylvania coal country. He was fortunate to learn some carpentry skills from his father, but work was scarce after he graduated high school. He enlisted in the Army shortly after Pearl Harbor was bombed, in part to escape the economic depression of his home.
Novak was assigned as a radio operator on a B-17 Flying Fortress bomber. But by the time his unit reached Europe, he was switched to the waist gunner position on a crew flying the B-24 Liberator.
The Eighth Air Force, which operated most of the American bombers in Europe, suffered enormous casualties during the war. On Novak's very first combat mission, the four-engine plane was hit by enemy fire and began to burn. The crew bailed out, except for Novak, the pilot and one other man. They stayed aboard as the pilot crash-landed in a potato field. They fled the plane and soon encountered friendly farmers. Novak recalls spending several weeks in a series of barns, hiding from German forces before being rescued by the U.S. Army.
Novak prefers not to dwell on his war experience. When he was discharged, he used the G.I. Bill to fund his college education and soon accepted a job teaching at Northport High School. Shortly thereafter, he purchased land and built the home he still lives in today. He is proud of his former students, some of whom still keep in contact.
PSEG Long Island employees had their work cut out for them: A large tree fell had fallen in the yard several years ago overgrowth around it made much of the property impassable.
The group removed the tree, cleared overgrown brush and shrubs, pulled out yard waste and debris and raked. Inside the home, the team installed energy efficient LED lightbulbs and assisted the American Red Cross to install smoke detectors.
"I'm speechless," Novak said. "I can't believe it. I mean, who would do something like that for me? I'm just another ordinary guy. There's thousands who were in the service, and they did as much—I like to think more—than I did."
"It meant a lot to me to meet someone who is a contemporary of my father and who flew in the B-17 Flying Fortress," said PSEG Long Island employee Kevin Rodgers, a Huntington resident and Navy veteran. "I am happy to swap stories of the experiences he had, and I am glad to do something to give back. It makes me think of my dad."
Also in Northport, nearly three dozen PSEG Long Island employees converged on the VA on Nov. 14 to simultaneously beautify the outdoor and indoor space for veterans living on and visiting the grounds. More than 20 PSEG Long Island employees hand weeded, raked, bagged leaves and cleaned up the more than 3 ½ acre Vietnam Veterans Memorial Garden and Wall of Wars, which is a place for reflection for the veterans staying on the campus and a destination for veterans and others in the community seeking to pay tribute to Long Island's military population.

Inside, a dozen PSEG Long Island employees decorated the lobby area of the long-term care home for Thanksgiving, then visited with several residents and created additional decorations. With bows, military flags, football and fall motif crafting supplies, the employees helped the residents, most of whom are veterans of the Korean and Vietnam wars, make fall, military and football-themed wreaths to hang around the building or in their rooms, and centerpieces for the dining room's Thanksgiving dinner.

Four other community service activities for veterans also took place this week.
"Supporting our communities is a huge part of PSEG Long Island's employee culture," said Daniel Eichhorn, president and COO of PSEG Long Island. "We are also proud to employ many veterans of our armed forces. During this time of year, when the nation recognizes the sacrifice of the men and women who have served our country, we felt it was especially important to devote our community service to improving veterans' lives."
PSEG Long Island is committed to giving back to the people and communities it serves by actively supporting hundreds of local charity events each year through the company's Community Partnership Program. Last year, PSEG Long Island employees logged 26,000 service hours, at 1,145 fundraising and community events to support more than 400 organizations. For more information on how PSEG Long Island supports the communities it serves, visit https://www.psegliny.com/community.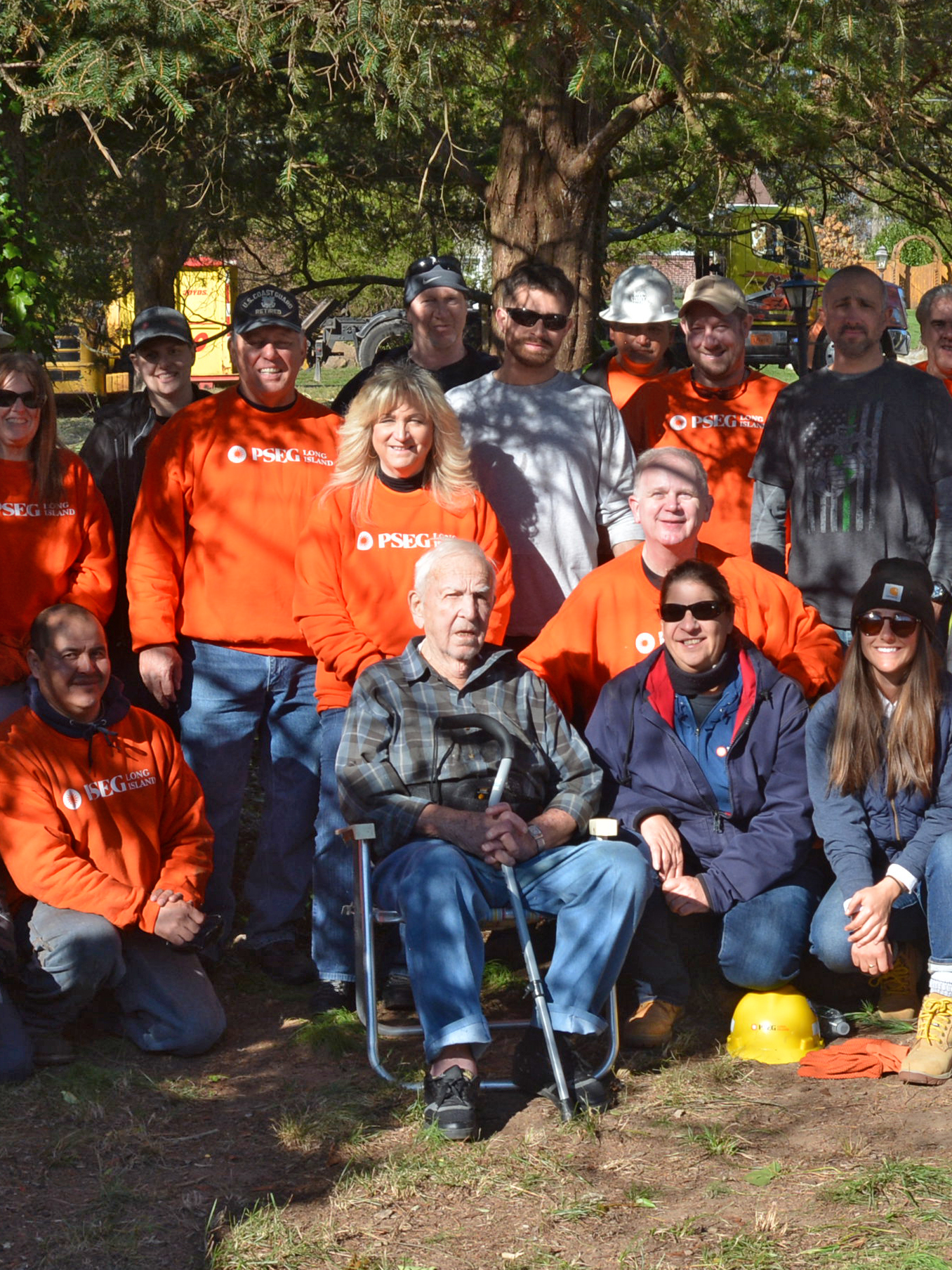 Photo Caption: World War II veteran and retired teacher Clem Novak got a visit and a yard cleanup from more than 20 PSEG Long Island employees, including Coast Guard veteran Bart Polizzotti (left, in orange shirt and gray cap), of Sound Beach, and Navy veteran Kevin Rodgers (right, crouching), of Huntington. To view and download more photos for publication, visit https://flic.kr/s/aHsmJp3VCw
###
PSEG Long Island operates the Long Island Power Authority's transmission and distribution system under a 12-year contract. PSEG Long Island is a subsidiary of Public Service Enterprise Group Incorporated (NYSE:PEG), a publicly traded diversified energy company with annual revenues of $9.1 billion.