Mi Viejito Pueblito Benefits From Vacant Space Program
PSEG Long Island offers a head start on success for family's restaurant
(Uniondale, NY – April 11, 2019) — Mi Viejito Pueblito, a new eatery in Huntington Station, celebrates its six-month anniversary today, thanks in part to PSEG Long Island's Vacant Space Program.
"PSEG Long Island is proud to support our local communities," said John Keating, manager of Economic Development for PSEG Long Island. "We know the Long Island economy thrives on small businesses, and that starting one is a big step. That is why PSEG Long Island created programs like the Vacant Space Program. This program helps small business owners like the Valerio family get a jump start to a successful future. It is a win-win for all."
Representatives from PSEG Long Island, members of the Huntington Station Chamber of Commerce, Town Board and government officials gathered to congratulate Mi Viejito Pueblito on its continued success.
In 2016, Eulogio Valerio and his wife, Emelia, signed a lease for the space at 1687 New York Avenue and embarked on their 19-year dream of opening Mi Viejito Pueblito. It was a challenging experience for the family, who started out not knowing how to navigate town and county regulations for opening a food-based business. In 2017, they sat down with Andrea Bonilla, a community liaison at Source the Station, the group tasked with involving local stakeholders in the revitalization of Huntington Station. Bonilla helped the Valerios navigate these processes and apply for the PSEG Long Island Vacant Space Program.
"Working to help small businesses is one of my favorite parts of what I do for the Huntington Station revitalization," said Bonilla. "I met Eulogio almost two years ago when he first started the venture of opening his authentic Mexican restaurant, for which he had been saving for 19 years, and when I found an article about the PSEG Long island Vacant Space Program I knew I had to help him apply and get it. I am thankful to PSEG Long Island for its help to ensure this small business thrives."
In October 2018, Eulogio and Emelia were finally able to open Mi Viejito Pueblito to praise from members of the community for genuine Mexican food in Huntington Station. The menu items come from traditional, authentic Mexican recipes, including special ingredients not usually found at other Mexican food locales.
"I have always wanted to have an authentic Mexican restaurant of my own, and to have a program like this from PSEG Long Island is a huge help because anything that helps you out as a small business when you are starting has a big impact," said Valerio, owner of Mi Viejito Pueblito.
PSEG Long Island's Vacant Space Program is designed to support the economic vitality of a business district and to optimize the use of existing electric infrastructure. This program offers special bill discounts to businesses that occupy a space in a commercial district that has been vacant for one year or more. Vacant business space detracts from the economic strength of a business district and results in underutilization of existing electric infrastructure.
Supervisor Chad A. Lupinacci said, "Congratulations to Mi Viejito Pueblito, who with the help of Source The Station, was able to qualify for PSEG Long Island's Vacant Space Program, which is helping fill once-vacant storefronts in Huntington Station and business districts around Long Island by offering one year of tiered discounts on their electric rates!"
"Mi Viejito Pueblito has been an incredible addition to the Huntington Station business community," said County Legislator Tom Donnelly. "Thanks to PSEG Long Island for providing them resources to help grow Huntington Station's economy and continue to revitalize the area."
"On behalf of the Business Improvement District, We would like to congratulate Mr. and Mrs. Eulogio Valerio with their dream of opening Mi Viejito Pueblito restaurant in Huntington Station," said Steve Conte, Business Improvement District president. "We would also like to thank Andrea Bonilla and PSEG Long Island for helping them get into that space. We wish you many, many years of success!"
For more information about the PSEG Long Island downtown revitalization programs, visit https://www.psegliny.com/inthecommunity/revitalization.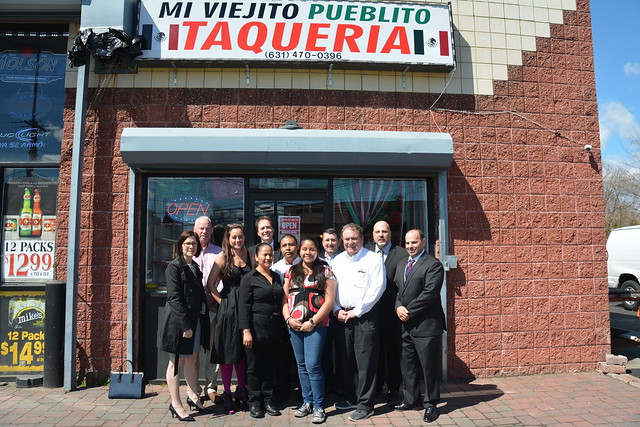 # # #
PSEG Long Island
PSEG Long Island operates the Long Island Power Authority's transmission and distribution system under a long-term contract. PSEG Long Island is a subsidiary of Public Service Enterprise Group Inc. (PSEG) (NYSE:PEG), a publicly traded diversified energy company.