PSEG Long Island Engineer from West Islip Marks 20 Years as Volunteer for Robotics Competitions
Referee/mentor helps guide future generation of technology leaders
(Uniondale, N.Y. — Feb. 19, 2018) — Each year from January through March, PSEG Long Island employees take time out of their weekends to volunteer as judges, referees, and inspectors in robotics competitions taking place throughout Long Island. At a recent qualifier event held at Nassau Community College, Jim Stephenson of West Islip, a PSEG Long Island engineer, refereed the play.

"As a professional engineer, I believe it is important to help educate the next generation of engineers, scientists and technicians," said Stephenson. "I find it rewarding to see some of my students advance to become engineers—some who have worked with me here at PSEG Long Island. Others have gone on to work at INTEL, NASA, U.S. Air Force, U.S. Merchant Marine, and Apple."

Over the course of the past several months, dozens of robotics clubs and groups across Long Island have been building robots for different tasks related to this year's theme, which is space. The teams compete against each other in five separate FIRST® (For Inspiration and Recognition of Science and Technology) Tech Challenge Robotics Qualifier Competitions throughout the early part of the year. Five teams from each qualifier event advance to the Long Island championship taking place March 9.

Stephenson says the excitement in the arena could be likened to NASCAR, the Super Bowl or any other sporting event. Hundreds, if not thousands, of spectators cheer, "ooh" and "ah"—amazed at the competitive play between the robot teams.

What began as a mentorship opportunity with the West Islip Robotics Club 20 years ago continues today as Stephenson uses his skills and expertise as a professional engineer to offer advice to students. He also serves as an inspector, referee, judge, and competition organizer for these FIRST Robotics events.

PSEG Long Island is committed to giving back to the people and communities it serves by actively supporting hundreds of local charity events each year through the company's Community Partnership Program. Last year, PSEG Long Island employees logged 26,000 service hours volunteering at 1,145 fundraising and community events to support more than 400 organizations. For more information on how PSEG Long Island supports the communities it serves, visit https://www.psegliny.com/inthecommunity/communitypartnership.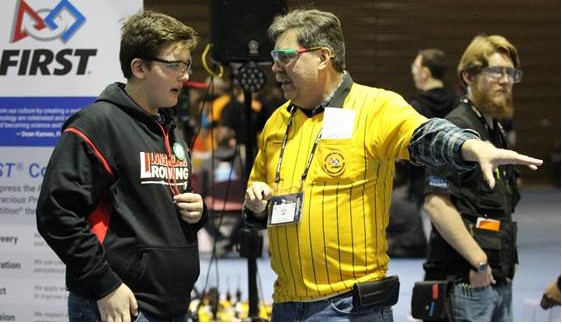 ###
PSEG Long Island operates the Long Island Power Authority's transmission and distribution system under a long-term contract. PSEG Long Island is a subsidiary of Public Service Enterprise Group Inc. (PSEG) (NYSE:PEG), a publicly traded diversified energy company.