PSEG Long Island Supports Long Beach with Beautification Grant
(UNIONDALE, N.Y. – Nov. 8, 2023) PSEG Long Island recently gave a grant of $2,760 to Long Beach's West End Beautification Association to enhance an open space area bordering Atlantic Beach on Beech Street. The funds supported the purchase and planting of a variety of shrubs and flowers, as well as new lighting, throughout Irwin Koff Plaza, which is named for a longtime resident who owned a business across the street from the area.
---
"The West End Beautification Association was delighted to receive a PSEG Long Island Outdoor Commerce and Beautification grant to enable us to renovate Long Beach Gateway Park, which memorializes longtime resident Irwin Koff. We were able to use this funding to add dozens of flowering shrubs, grasses and perennials plus stunning new lighting to the area. Now this first impression of Long Beach is a fitting representation of our 'Beautiful City by the Sea.'"
- Mary Ellen Pollina, Founder and Co-Director, Long Beach West End Beautification Association
---
The PSEG Long Island Chamber Outdoor Commerce and Beautification grant program was created to support aesthetic enhancements and downtown improvement projects in municipalities. Since 2020, nearly $375,000 has been distributed across Long Island and the Rockaways. For additional information on how PSEG Long Island helps local businesses, visit: https://www.psegliny.com/inthecommunity/revitalization.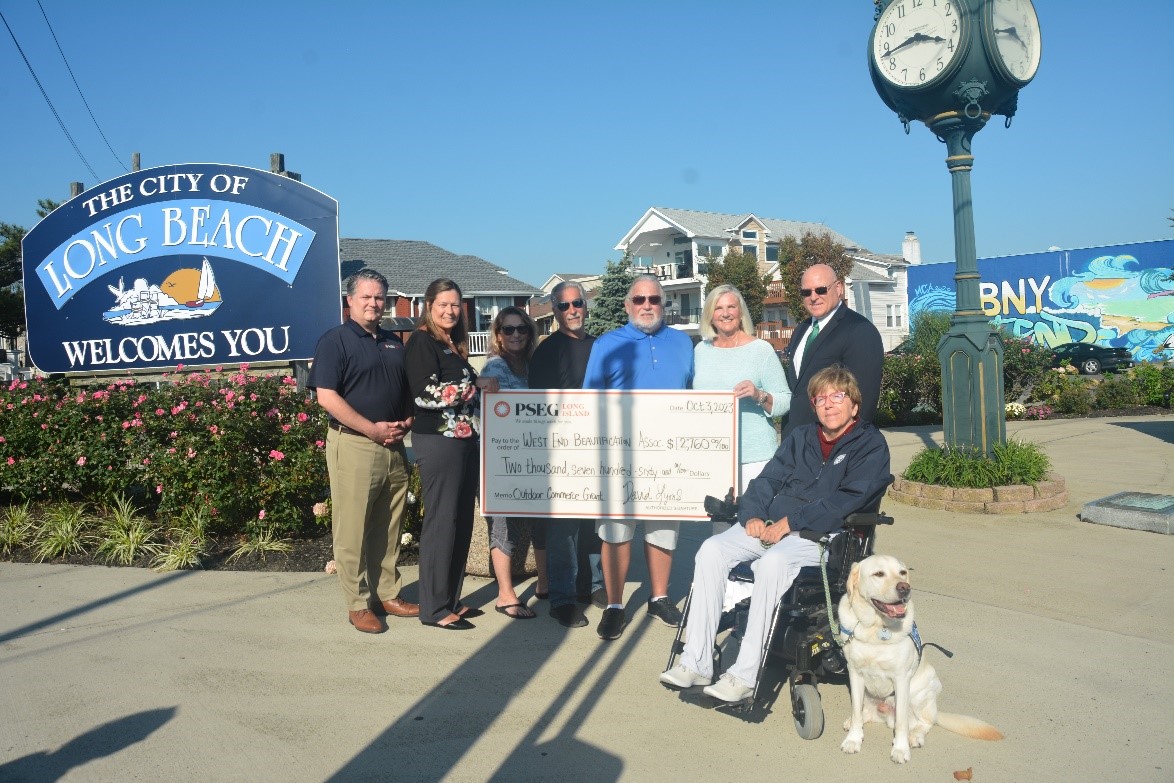 Photo caption: Pictured (from l-r) are: Christopher Chaffee and Linda Herman of PSEG Long Island; Robin Terzi, a local realtor; Larry Cerullo of Cerullo Landscaping; Barry Koff, son of Irwin Koff for whom the park is named; Mary Ellen Pollina, founder and co-director of the West End Beautification Association; Ron Walsh, Long Beach police commissioner/acting city manager; and Liz Treston, vice president of the Long Beach City Council with Macgyver.
# # #
PSEG Long Island
PSEG Long Island operates the Long Island Power Authority's transmission and distribution system under a long-term contract. PSEG Long Island is a subsidiary of Public Service Enterprise Group Inc. (PSEG) (NYSE:PEG), a publicly traded diversified energy company.