PSEG Long Employee from Northport Teaches Electric Safety To Norwood Daisy Troop
(UNIONDALE, N.Y. – Jan. 17, 2020) – Northport Daisy Troop 3658 from Norwood Avenue Elementary School made electric safety a priority at its first meeting of the year this year. The five- and six-year-olds were treated to Electric Safety Town, PSEG Long Island's interactive presentation that teaches young people how to stay safe in potentially dangerous situations.

The girls were encouraged to ask and answer questions as the facilitator, Peter Hornick, a PSEG Long Island employee and also lifelong Northport resident/Norwood alumnus, taught them what to do in specific scenarios. They talked about what to do if a person comes in contact with something that's energized, such as a bus or fence, with a downed wire on it. The discussion was illustrated by a tabletop model of a small neighborhood with power lines, a house, a school bus, and various other potential hazards. The display illustrates real-life examples that teach the principles of electric safety in a visual way.

The kindergarteners learned to never assume a downed power line is de-energized, never touch a downed wire and never stick anything into an electrical socket except for a plug, to always proceed with caution around electricity and tell parents to do the same.

"It was great to be able to educate the newest generation of Northport residents about electrical safety, which is a top priority of PSEG Long Island," said Hornick. "This group of Daisies proved that you can never be too young to learn how to stay safe in potentially dangerous scenarios."

"My daughter is still talking about this presentation and sharing the safety messages with anyone she sees," said Shannon Volpe, troop co-leader and Norwood alumna. "It was even more exciting because the girls earned their first partner patch – the PSEG Long Island Energy Patch, which is motivating to them as they are new to the Girl Scouts system."

PSEG Long Island and the Girl Scouts of Suffolk County have a longstanding partnership, which includes the PSEG Long Island Energy Patch that encourages girls to learn about electricity, and the importance of safety and energy conservation. For more about the patch program, visit
http://www.gssc.us/en/event/patch-programs/partner.html.

For information on having Electric Safety Town at a school, camp or event, please complete the Community Partnership Program request form on PSEG Long Island's website at https://www.psegliny.com/Community or send a request to CommunityLI@pseg.com.

PSEG Long Island is committed to giving back to the people and communities it serves by actively supporting hundreds of local charity events each year through the company's Community Partnership Program. Last year, PSEG Long Island employees logged more than 30,500 service hours volunteering at 1,045 fundraising and community events to support more than 500 organizations. For more information on how PSEG Long Island supports the communities it serves, visit https://www.psegliny.com/inthecommunity/communitypartnership.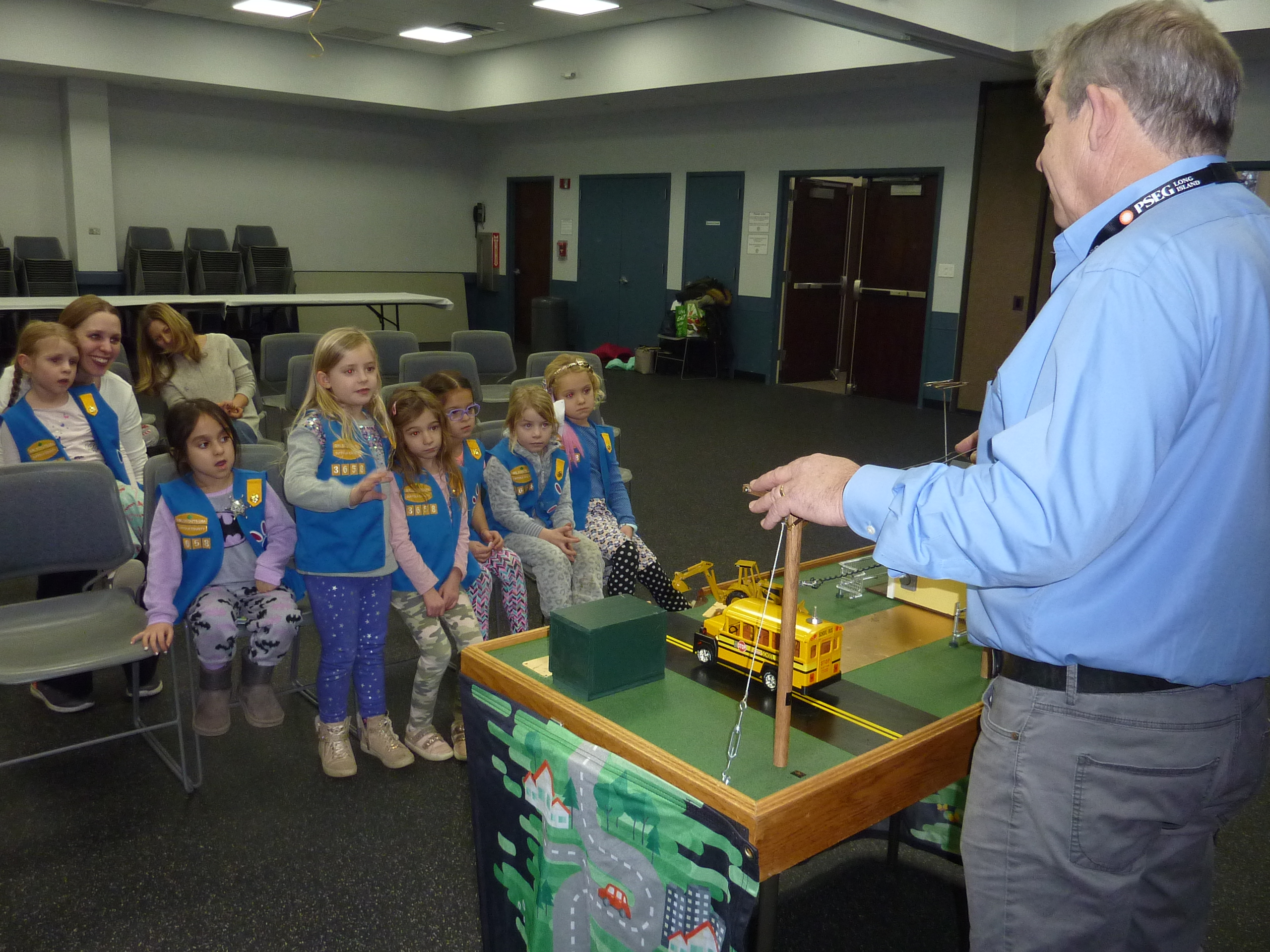 Photo Caption: Lifelong Northport resident and PSEG Long Island employee Peter Hornick recently delivered the company's Electric Safety Town presentation to Norwood Daisy Troop 3658. The Daisies learned how to stay safe in potentially dangerous situations.
###
PSEG Long Island operates the Long Island Power Authority's transmission and distribution system under a long-term contract. PSEG Long Island is a subsidiary of Public Service Enterprise Group Inc. (PSEG) (NYSE:PEG), a publicly traded diversified energy company.