PSEG Long Island Honors Veterans with a Week of Community Service
More than a dozen employees help renovate American Legion in East Meadow
(Uniondale, NY – Nov. 13, 2019) – PSEG Long Island is celebrating veterans throughout the week of Veterans Day by improving the homes and facilities of men and women who have served in the U.S. armed forces, including doing construction, improvement and making efficiency upgrades at the American Legion Post #1082 in East Meadow. The theme of the week of service is "Vets Helping Vets."
Today a group of PSEG Long Island employees, which included military veterans, removed trash, debris and old furniture, painted, pulled out old carpet and laid new carpet, installed new energy efficient LED lighting and renovated the space on the second floor. Additional work was performed at the building last week, including upgrading outdoor lighting to energy-efficient LEDs, clearing out debris and staining a large deck.
The American Legion is the nation's largest wartime veterans service organization aimed at advocating patriotism across the country. Its members are all active-duty veterans who have served between Dec. 7, 1941 and today.

"It was an honor to give back to our vets who served our country, and help beautify a space where they enjoy gathering to have a good time together," said Nicole De Pascale, a PSEG Long Island work coordinator who lives in North Bellmore "Community service activities are always fulfilling to my heart."
PSEG Long Island is doing six other community service activities for veterans this week. Among these was another improvement project in East Meadow. On Tuesday, Nov. 12, a dozen PSEG Long Island employees pitched in to clean and repaint the Vet Mart, a food pantry for veterans run by the Nassau County Veterans Service Agency. Located at Nassau University Medical Center, the facility provides the opportunity for military veterans in need to shop in a private setting for food and personal care items free of charge.
"Supporting our communities is a huge part of PSEG Long Island's employee culture," said Daniel Eichhorn, president and COO of PSEG Long Island. "We are also proud to employ many veterans of our armed forces. During this time of year, when the nation recognizes the sacrifice of the men and women who have served our country, we felt it was especially important to devote our community service to improving veterans' lives."
PSEG Long Island is committed to giving back to the people and communities it serves by actively supporting hundreds of local charity events each year through the company's Community Partnership Program. Last year, PSEG Long Island employees logged 26,000 service hours, at 1,145 fundraising and community events to support more than 400 organizations. For more information on how PSEG Long Island supports the communities it serves, visit https://www.psegliny.com/community.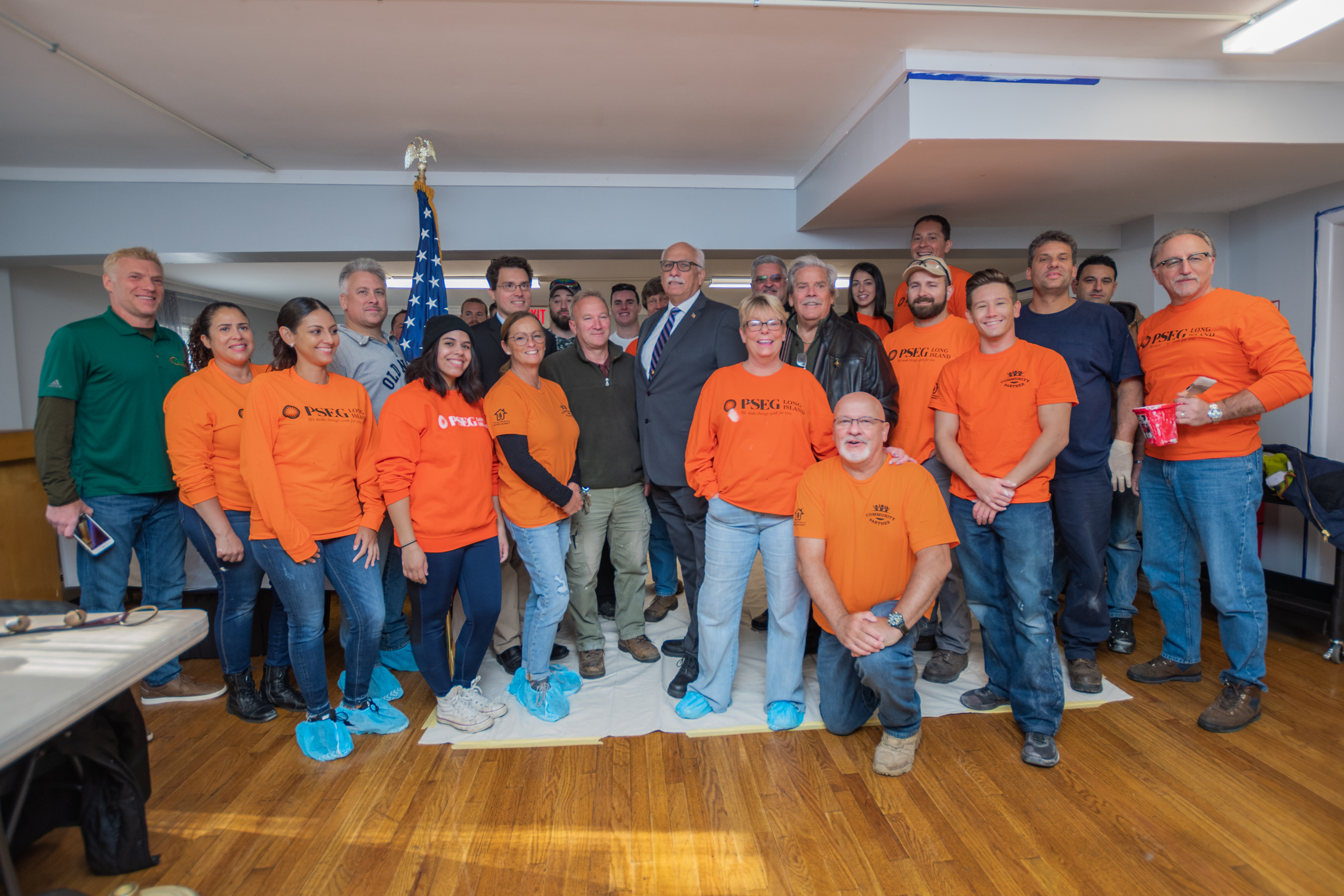 Photo Caption: More than a dozen PSEG Long Island employees helped renovate the American Legion Post #1082 in East Meadow in honor of our veterans. To view and download more photos, visit https://flic.kr/s/aHsmJmwLVc
###
PSEG Long Island operates the Long Island Power Authority's transmission and distribution system under a 12-year contract. PSEG Long Island is a subsidiary of Public Service Enterprise Group Incorporated (NYSE:PEG), a publicly traded diversified energy company with annual revenues of $9.1 billion.