PSEG Long Island Honors Veterans with a Week of Community Service
Navy vet from Mastic among more than 20 employees preparing Bellport home for a new veteran homeowner
(Uniondale, NY – Nov. 12, 2019) – PSEG Long Island is celebrating veterans throughout the week of Veterans Day by improving the homes and facilities of men and women who have served in the U.S. armed forces, including preparing a Habitat for Humanity home in Bellport to be rebuilt for its new homeowner, who is a military veteran. The theme of the week of service is "Vets Helping Vets."
Today a group of PSEG Long Island employees, which included five military veterans, tore down walls, flooring, ceilings, roofing and siding. By noon, the house was stripped down to its skeleton in preparation for a new home to be built for a veteran. PSEG Long Island sponsored this Habitat for Humanity veteran build event.
"Our veterans deserve the utmost respect and deserve any help we can provide to them," said Kevin McCormack, a line worker and Navy veteran from Mastic who was among the PSEG Long Island employees preparing the home.
Six more community service activities for veterans will take place the rest of the week.
"Supporting our communities is a huge part of PSEG Long Island's employee culture," said Daniel Eichhorn, president and COO of PSEG Long Island. "We are also proud to employ many veterans of our armed forces. During this time of year, when the nation recognizes the sacrifice of the men and women who have served our country, we felt it was especially important to devote our community service to improving veterans' lives."
PSEG Long Island is committed to giving back to the people and communities it serves by actively supporting hundreds of local charity events each year through the company's Community Partnership Program. Last year, PSEG Long Island employees logged 26,000 service hours, at 1,145 fundraising and community events to support more than 400 organizations. For more information on how PSEG Long Island supports the communities it serves, visit https://www.psegliny.com/community.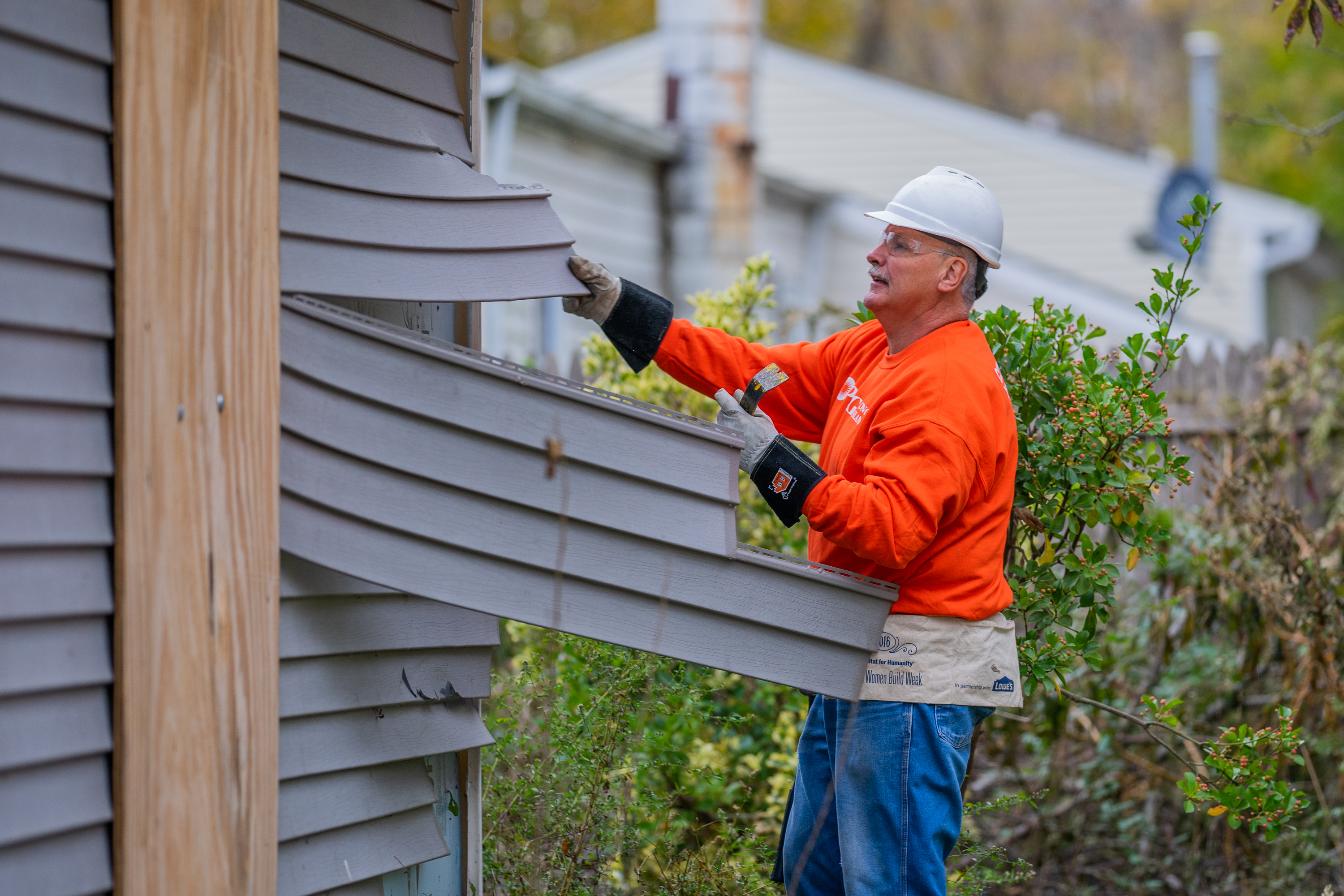 Photo Caption: Mastic resident and Navy veteran Kevin McCormack was one of more than 20 PSEG Long Island employees who pitched in with Habitat for Humanity on Nov. 12 to prepare a Bellport home to be rebuilt for its new owner, a veteran. To view and download more photos, visit https://flic.kr/s/aHsmJkqZdh
###
PSEG Long Island operates the Long Island Power Authority's transmission and distribution system under a 12-year contract. PSEG Long Island is a subsidiary of Public Service Enterprise Group Incorporated (NYSE:PEG), a publicly traded diversified energy company with annual revenues of $9.1 billion.