PSEG Long Island Awards One of Its Largest Main Street Revitalization Grants – $75,000 – to The Northport Hotel
(UNIONDALE, N.Y. – Sept. 18, 2023) PSEG Long Island has given a $75,000 grant to Long Island's newest boutique hotel, The Northport Hotel. The new construction project qualified for PSEG Long Island's Main Street Revitalization because it improved downtown space in an underutilized building.
---
"We are proud to support Long Island's newest boutique hotel with one of our largest Main Street Revitalization grants to date. We created these grants to support business owners' visions to revitalize and revive commercial spaces. The Northport Hotel is bringing increased tourism and jobs to one of Long Island's treasured downtowns, along with creating a place the community can enjoy."
- Michael Presti, Director of Customer Experience and Marketing, PSEG Long Island
---
"We'd like to thank PSEG Long Island for contributing to this special project by providing us with this Main Street grant," said Kevin O'Neill, co-owner, The Northport Hotel. "It was a difficult time to be building before and during the pandemic. PSEG Long Island was with us throughout the entire process, and the funds have helped us enhance and beautify Northport's lovely downtown."

For the past five years, PSEG Long Island has provided hundreds of thousands of dollars to small and medium-sized businesses through grants and bill credits. The programs include:
Main Street Revitalization grants, which The Northport Hotel received, are available to businesses that complete projects to help improve the economic stability and growth of a municipality. Since 2018, PSEG Long Island has given out Main Street Revitalization grants totaling $1.2 million to support 50 local renovation projects. Over the past five and a half years, the grants have helped business owners create nearly 900 local jobs, including the approximately 60 jobs created by the hotel.
PSEG Long Island's Vacant Space Revival program, which provides up to $10,000 in electric bill discounts for a new business' first year, which is often financially difficult. Since 2018, more than a quarter of a million dollars has been given out to more than 100 new businesses under this program.
PSEG Long Island's Outdoor Commerce and Beautification grants, created in 2020 as a direct response to the pandemic, are offered to local chambers of commerce and business improvement districts for beautification and downtown improvement projects to help their members. This grant, worth up to $10,000 for each organization, has provided more than $350,000 to support local businesses over the last three and a half years.
For additional information on how PSEG Long Island helps local businesses, visit: https://www.psegliny.com/inthecommunity/revitalization.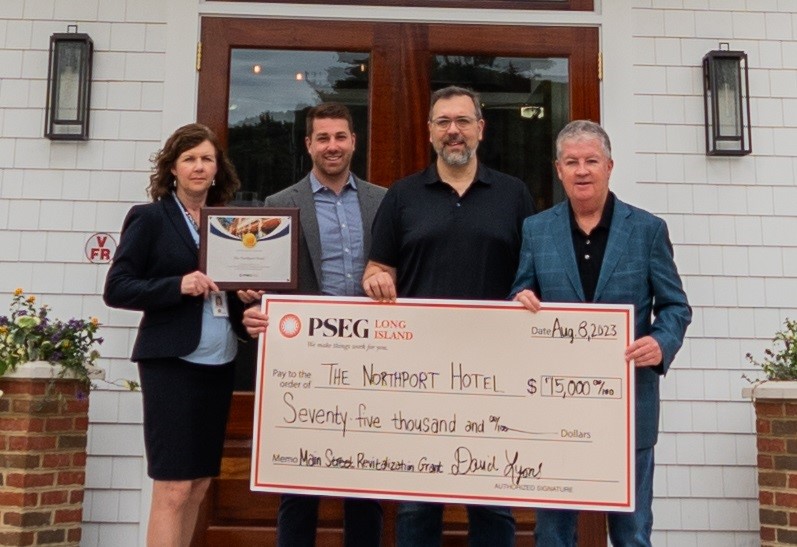 Photo caption: Pictured (l-r) are: Christine Bryson and Michael Presti of PSEG Long Island with Kevin O'Neill and Michael DeCristofaro of The Northport Hotel.
# # #
PSEG Long Island
PSEG Long Island operates the Long Island Power Authority's transmission and distribution system under a long-term contract. PSEG Long Island is a subsidiary of Public Service Enterprise Group Inc. (PSEG) (NYSE:PEG), a publicly traded diversified energy company.